Editors Note: The Snow Goer Snowmobile of the Year and Top 10 honors have been awarded for 33 years. Below is the explanation of our choices for 2023 – ripped from the pages of the November 2022 issue of Snow Goer.
In the ever-evolving world of snowmobiling, determining the 10 sleds (11, with the Snowmobile Of The Year) that best serve the various niches within the snowmobile market is never easy. This year, with new chassis, new engine package and intriguing new model combinations, it was downright difficult.
Yet once we broke up the market to various categories, specific models immediately rose to the top. After extensive testing and evaluation, we believe these are the machines that will best serve riders who enjoy various aspects of snowmobiling. They are proud representations of the best of the best of snowmobiling for 2023.
BEST MUSCLESLED: Polaris Patriot Boost Indy VR1 137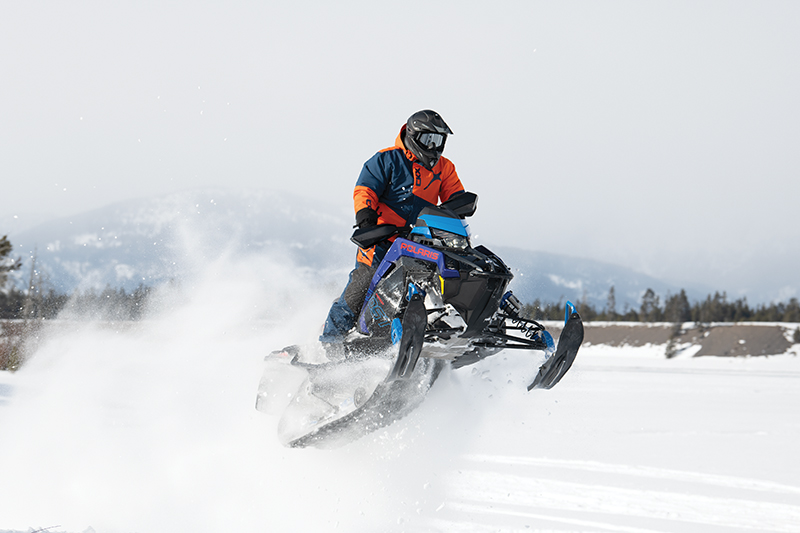 For those who love crazy-fast acceleration and startling top-end speed but who also still adore the lightweight feel and punchiness of a snappy two-stroke, there's a new sheriff in town! Polaris is bringing its turbocharged Patriot Boost engine to the flatlands, and with it is obliterating pre-conceived notions about modern musclesleds. There's no longer a 50- to 80-pound four-stroke penalty if you want to be the fastest across the lake, and you don't have to give up the ability to stab the throttle to lift the sled over berms and field approaches either. It sits in the ergonomically sound Matryx chassis with its quality suspensions, great handling, exceptional 7S digital display and many high-end features. There is no compromise here.
BEST TWEENER: Ski-Doo MXZ Neo+
When the factories design new snowmobiles, their goal is almost always to raise the bar over the existing available products in a given niche. Rarely, however, has a new snowmobile blown away its competition so deftly as Ski-Doo's Neo platform. From the layout of its downsized REV Gen4 chassis to its impressive overall handling, from the smooth and consistent performance of 600 EFI engine to the many top-notch standard features, Ski-Doo built an entry-level/tweener/newcomer sled that is dramatically better than competitive machines. And perhaps most importantly, the machine is being offered with the lowest MSRP in the class: $7,199 for the MXZ Neo+ and $6,399 for the base MXZ Neo. This is one giant step forward.
BEST LUXURY CRUISER: Yamaha Sidewinder L-TX GT
Yamaha has long appealed to particular, high-end riders who value an indulgent feel and refined powerplants. The Sidewinder L-TX GT takes that edict to another level. Back for its second year with electric-assist power steering, dual-rate springs, more aggressive runners and re-shimmed skis, the GT seemingly drives itself through the woods, providing the rare combination of razor-sharp handling and super-light steering. Power comes from the silky smooth yet fantastically powerful 998cc turbocharged triple that spins mind-blowing numbers on the speedometer in a sophisticated manner. Add in a heated seat, premium wind protection, onboard storage and more, and it defines what a luxurious solo touring machine should be. This is the best high-output four-stroke trail cruiser ever built.
BEST CROSSOVER: Ski-Doo Backcountry X-RS 850 146
Ski-Doo designers continue to best-understand the 50/50 crossover market, as evidenced by the Backcountry X-RS making another return to the Top 10. Little has changed on this machine for 2023 (we're guessing the shift to the REV Gen5 platform will come in model year 2024) but that's OK because it's still the best in its class at having decent trail manners for all-day fun on groomed paths, while also feeling lightweight, fun, reactive and nimble when you leave the trail behind and play in powder-filled fields or on tree-lined hillsides. With externally adjustable KYB shocks in the cMotion rear and RAS 3 front, the X-RS is the best of the Backcountry bunch at delivering whatever sort of adventure you prefer.
BEST 600-CLASS PERFORMANCE SPECIAL: Polaris 650 Indy XCR 129
No sled delivers more smiles-per-mile for our fun-loving flatland test riders than the 650 Indy XCR. It combines a quick-reacting 650 Patriot twin with a lightweight Matryx chassis, which provides superb ergonomics and premium handling. With the short (by modern standards) 129-inch track, the XCR pivots on a dime in the twisties. A quick stab on the surprisingly quick Hayes brake and a shift of your body position will send you in full control toward the next turn. Yet it tracks straight and true when bounding through a series of huge powerline moguls. Suspension and chassis reinforcements let you ride it like you stole it, with a guilty grin. This much fun probably shouldn't be legal.
BEST INTERESTING NEW TAKE: Arctic Cat ZR 6000 R-XC
Arctic Cat's 2023 lineup featured a lot of "sameness" compared to previous years, but there is a glowing diamond hidden among the usual suspects. The ZR 6000 R-XC is the sort of sled that earned Cats the nickname of "ditch pickles," because it seems custom made to rip down rugged ditchlines, hit field approaches with reckless abandon and carve through tight corners at speed. It comes straight out of Cat's race department with a highly adjustable rear suspension, wider front end and aggressive ergonomics. Reinforcements throughout make it ready for whatever flogging you want to put it through. The only thing that's missing is the number plate and sponsor stickers. Other than that, it's ready to race. Are you?
BEST IN-SEASON TRAIL BURNER: Ski-Doo Renegade Adrenaline 850 E-TEC
The many refinements that come with the fifth generation of the REV chassis take what was already a really good Renegade and push it closer to great. The brand with the most polished two-stroke sleds takes them one step further with components that reduce vibration, better illuminate the trail at night and give riders more freedom of movement. With the optional 10.25-inch touchscreen display, it can also make riders more connected – both to their sled and to the outside world. This is all on top of the regular high-end features on a Renegade, including the best bump-absorbing rear suspension in the rMotion X, the consistent handling RAS X front suspension and Pilot X skis.
BEST NEW TARGETED MOUNTAIN SLED: Polaris 9R RMK Khaos Slash 155
Not every mountain rider goes above 10,000 feet, or regularly runs high enough RPM to truly benefit from the modern turbocharged two-strokes. For them, Polaris is offering the 9R engine for 2023. This so-called "factory mod" features larger bore cylinders with CNC machined ports and ceramic coated pistons. A lightweight crank, flywheel and exhaust system are also included. In the field, its power hit is immediate. When goofing off in the trees at low RPM, nothing lights up the track quicker with the stab of the throttle. It makes the already agile RMK Khaos Slash – complete with short, tapered tunnel and tiny snowflap – even more fun when picking tricky lines while playing on tree-lined slopes.
BEST UNIQUE SLED: Lynx Xterrain Brutal
What do you get when you combine the fearlessness of Rambo or John Wick with the brute strength of Marvel's Juggernaut or Dwayne "The Rock" Johnson? Any helmeted rider aboard a Lynx Xterrain Brutal! We've ridden impressive utility crossovers before, but this is a different beast altogether. With its reinforced, square-shouldered Radien X chassis, massive 20- by 154- by 2.4-inch PowderMax track and quick-reacting 850 E-TEC engine added to the uncoupled Easy-Ride rear suspension, the Brutal backs down to nothing. Small to mid-sized saplings beware! On top of that, it also has impressive (for its size) handling on trails. Despite the specs, BRP says this isn't just a utility machine, and after riding it we agree: It's truly a go-anywhere, do-anything sled.
BEST NEW FOUR-STROKE: Polaris ProStar S4 Voyageur 146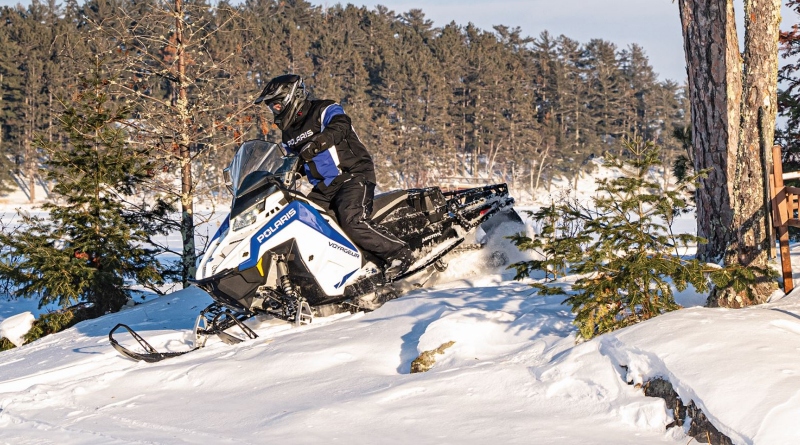 On the opposite end of the spectrum from the Xterrain Brutal, the Voyageur with the new ProStar S4 engine is a capable sport-utility hybrid with a dominant polite side. It comes with a 15- by 146- by 1.6-inch Cobra track wrapped around the IGX crossover skid frame that provides flotation off trail but decent traction when on groomed expressways. Its rear rack, under-seat storage and available rear hitch make it a capable partner, whether ice fishing, collecting firewood or pulling a sleigh. The engine is Polaris' buttery smooth new four-stroke. With only about 90 horsepower on tap, it'll never startle its rider, and three driving modes allow a custom-tailored experience. Overall, this Voyageur is civilized and dependable.
Click here to see the Top 10 Snowmobiles for model year 2022.
Click here to see the Top 10 Snowmobiles for model year 2021.
Click here to see the Top 10 Snowmobiles for model year 2020.
Click here to see the Top 10 Snowmobiles for model year 2019.
Editor's Note: Every Snow Goer issue includes in-depth sled reports and comparisons, aftermarket gear and accessories reviews, riding destination articles, do-it-yourself repair information, snowmobile technology and more. Subscribe to Snow Goer now to receive issues delivered to your door or directly to your computer for a low cost.