After Elias Ishoel wrapped up his fourth consecutive points championship on the ISOC Amsoil Championship Snocross series in March, an intense debate was initiated among Snow Goer family and friends about where this young racer fits among the greatest to ever participate in the "modern" form of snocross racing – meaning the deep-snow, big bumps sort of racing that the sport evolved into in the early 1990s.
That discussion blossomed into this: The Top 10 Snocross Racers Of All Time list. It was created after polling many top snocross industry "insiders" including select race circuit officials, factory race directors, major team owners, media personnel, aftermarket industry leaders and others who were involved very directly in the sport over the past 30 years. We combined their input with an intense review of past race results and points standings to finalize our rankings. In addition, we also created an online poll and let fans create their own list. Read about No. 2 on our list below, then check out No. 10 Dennis "DJ" Eckstrom, No. 9 Kirk Hibbert, No. 8 Chris Vincent , No. 7 Robbie Malinoski, No. 6 Tim Tremblay No. 5 Ross Martin ,No. 4 Toni Haikonen and No. 3 Elias Ishoel by clicking on their names. Check back to see No. 1 unveiled soon.
It could rather easily be argued that nobody had as much to do with the evolution of snocross into the high-flying, stand-up style we know today as No. 7c Blair Morgan. He was voted as the No. 2 best snocross racer of all time by a panel that included race directors, team owners, media members, aftermarket leaders, race circuit officials and more.
Morgan showed up seemingly out of nowhere in the late 1990s and immediately took control of the sport. He looked different and rode different than anybody in snocross at the time – always standing, and always riding aggressively. He also had amazing showmanship and flare. The bar was raised immediately: Suddenly, our previous snowmobile racing heroes looked old, slow and planted in their seats, and a younger crop of riders – mirroring Morgan's style – emerged to bring the sport into the future.
Some folks even like to credit Morgan for the creation of the trend of rider-forward chassis, beginning with the original REV. That's far too dismissive of the Ski-Doo designers and engineers who had been working on the chassis for many years before Morgan switched away from Arctic Cat and to Ski-Doo in the 2001-2002 season, but there's no question that Morgan helped prove the concept as he took it to multiple victories.
SNOCROSS CLAIM TO FAME: After gaining acclaim as a motocross racer in Canada, Morgan entered some local snocross races in his native Saskatchewan and found success and caught the eye of a key official at Arctic Cat, so he decided to try his hand south of the border at the West Yellowstone Expo in West Yellowstone, Montana, on March 15-16 of 1997.
Instead of coming in as a Sport or Semi-Pro rider, though, he had the audacity to jump right into the Pro class… and he started winning immediately. He won all of his Pro Stock heats on a borrowed ZR 440 and then led most of the final before being chased down by the legendary Kirk Hibbert. Still, second place in a star-studded national race for a previously unknown racer was startling. Read part of the Snow Week magazine recap of the event here.
We remember specifically, the next fall at the crowded Arctic Cat race school in Thief River Falls, Minnesota, when we were checking out the new ZR 440 Team Arctic Canada Race Director Jamie Anseeuw tugged on our shirt sleeve and said, "Hey, I want to introduce you to the next snocross superstar, Blair Morgan." We'd previously been introduced to the "next" superstars from various fathers/mothers/uncles/cousins/friends/dealership owners/team owners, etc., over the years, and most never panned out, so we gave the young man with the long orange sideburns a cursory greeting and wished him well – noting that one of our co-workers had seen him at Yellowstone and was impressed – but left it at that.
Anseeuw's prediction, though, became reality at the season-opening race a few weeks later, when Morgan claimed two of the three Pro finals at Duluth, Minnesota – marking the end of each with a huge trick over the finish line tabletop jump. Soon the unknown 22-year-old from Prince Albert was dubbed "Superman," and his legend grew with dominating win after dominating win.
Morgan won 89 Pro finals and 13 national points championships over the next 10 years, and many of his wins came in dominating fashion – unless then-occassional-part-time-snocrosser Tucker Hibbert was also on the track. Those two had some terrific battles. Morgan also earned five X Games gold medals in snocross. Moreover, he was the sport's most high-profile free agent when he switched from Arctic Cat to Ski-Doo before the 2001-02 season. With Ski-Doo, Morgan and Anseeuw launched the Blair Morgan Racing Team and again raised the bar in another aspect of the sport.
Morgan's career came to a sudden halt after the 2007-08 racing season when he was paralyzed in a motocross crash in Montreal in September of 2008, but his place in history was by then very secure. He was inducted into the racing-focused Snowmobile Hall of Fame in 2013.
MOMENT IN TIME: Blair Morgan came into snocross and immediately dominated pretty much everywhere… except the high-profile ESPN Winter X Games. He finished eighth in 1998, then second to Chris Vincent in 1999 and second to the then-15-year-old Tucker Hibbert in 2000.
Morgan was running second to Hibbert again in 2001 in Vermont when Hibbert's brakes failed and he crashed. Morgan pounced and won his first Gold at Winter X by a wide margin. Once comfortable on that stage, though, he never let up, winning again in 2002, 2003, 2005 and 2006.
BALLOTING: Among our expert panelists, six people rated Morgan as the best ever, nine said he was second best and one had him in third. In our fan balloting, he also finished second overall by a wide margin.
CATCHING UP WITH BLAIR: For several years after him injury, Morgan distanced himself from the snocross community but in more recent years he has returned to the racetrack as an advisor to top Ski-Doo racers. His return has been met with much appreciation, by racers and fans. Below is a excellent video that ESPN created a couple of years ago that is definitely worth the time for Morgan fans.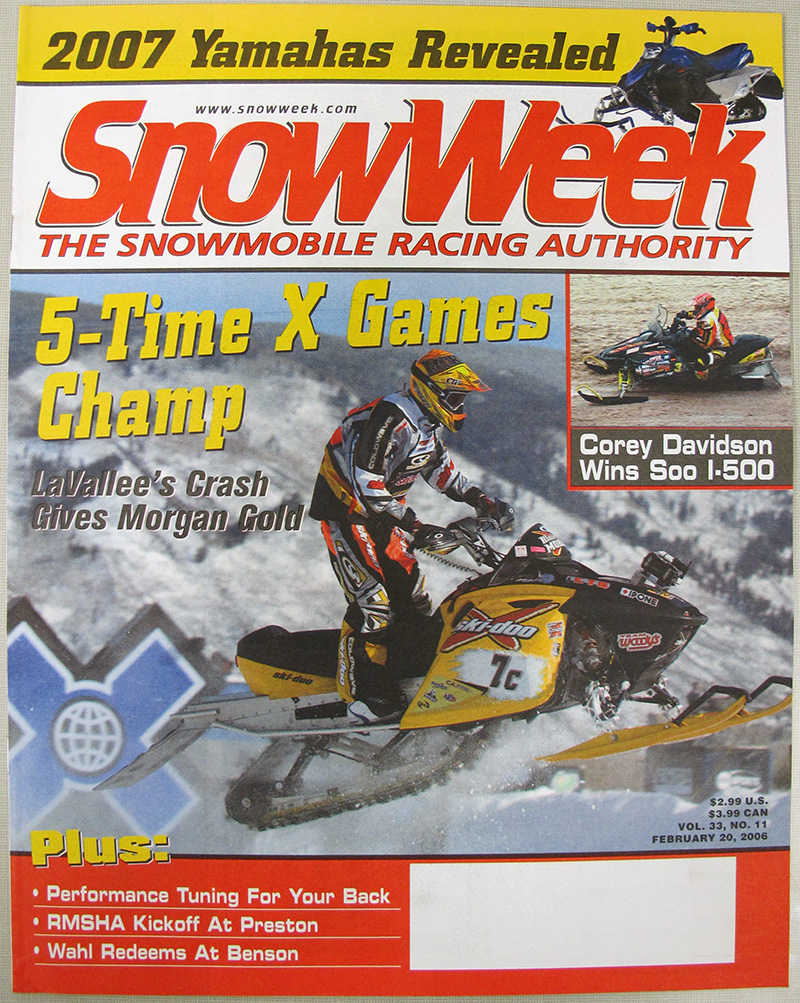 Editor's Note: Every Snow Goer issue includes in-depth sled reports and comparisons, aftermarket gear and accessories reviews, riding destination articles, do-it-yourself repair information, snowmobile technology and more. Subscribe to Snow Goer now to receive issues delivered to your door or directly to your computer for a low cost.