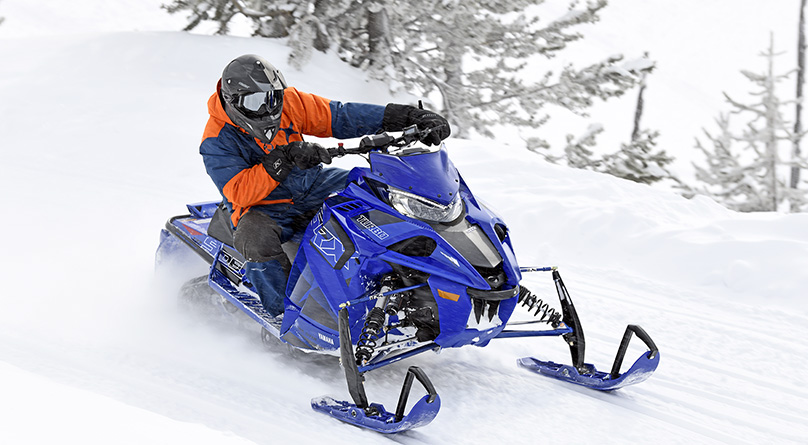 More riders will be able to feel the benefits of power steering on a snowmobile for 2023, as Yamaha expands its use from two to four Sidewinder models for next season.
The brand is also adding a much-needed feature to its SXVenom and Transporter Lite models, shortening the snowflap on its mountain machines, updating some shock packages and taking a swing at dynamic new looks in a 2023 lineup that is 18 sleds deep.
One other notable change: the dated VK Pro, VK 540 and Venture machines have been dropped from the Yamaha lineup, which isn't huge news until you consider this: Every single 2023 Yamaha will be built at the Textron/Arctic Cat factory in Minnesota, with no Yamaha-exclusive models coming out of Japan.
The Yamaha spring order program runs from March 22 to April 5. Let's take a closer look at its 18 machines.
Click through to see information on the 2023 Ski-Doo, Lynx, Polaris and Arctic Cat models.
More EPS Sidewinders
Yamaha re-introduced electronic power steering (EPS) on two models for 2022: Its high-mile-cruising Sidewinder L-TX GT and its two-passenger luxury-touring Sidewinder S-TX GT. Both sleds benefitted mightily, with lighter steering and less negative feedback coming from the trail back through the handlebar.
Beyond that, the addition of EPS (and the resulting elimination of heavy steering as a factor) allowed Yamaha engineers to give the sleds a more aggressive front end, with longer runners and a 5mm shim in the ski mount. That improved the two models' handling.
It all worked so well that it is being expanded for 2023, with EPS being added to the Sidewinder SRX LE and Sidewinder L-TX LE. In fact, every 137-inch Sidewinder will now have it except of the price-oriented Sidewinder L-TX SE.
Breaking down the Sidewinder lineup, aside from the EPS upgrade, the Sidewinder SRX features handlebars that are lowered by 1 inch for 2023, plus the upgraded runners and shim in the front suspension. It returns with a RipSaw track featuring tiny 1-inch lugs. It simply must be studded to get proper hookup and match the new front end. Adjust-on-the-fly Fox iQS shocks are standard equipment.
The Sidewinder L-TX LE was actually preferred by most members of our test team. There was no penalty to its 1-inch higher ride height, and it got a better grip on the trail thanks to its 1.25-inch lug height. Also for '23, the L-TX LE takes a small step backwards in shock absorbers: Due to supply chain issues, its Fox QS3 shocks will come anodized, without the Kashima coating that was a selling point – and a cause for delays – in model year '22.
The EPS system was introduced last year on the high-mile focused Sidewinder L-TX GT and Sidewinder S-TX GT 2-upper last year. They both return unchanged for 2023 except for a dynamic Matte Titan color that is accented with touches of black and gold.
The only 137-inch Sidewinder to not receive EPS is the L-TX SE. It's an entry point to the Sidewinder family with base-level shocks and fewer bells and whistles. It has a new red and black color combination.
All Sidewinders are powered by the nearly 200 horsepower 998cc turbocharged triple that offers thrilling acceleration, and come in what Yamaha deems the SRV chassis.
Sidewinder X-TX Models
The two other Sidewinder models in the Yamaha lineup are the X-TX crossovers. Each comes with the uncoupled Versattack rear suspension that's wrapped in a 146-inch track, but beyond that their focus varies.
Falling more on the "on-trail" end of the crossover continuum, the X-TX LE model features a trail-width (42-inch) front end with Fox iQS shocks and Stryke skis. Its 146-inch Cobra spins 1.6-inch lugs. In reality, this is a long Sidewinder trail burner with added traction.
The slightly more off-trail focused Sidewinder X-TX LE features the SRV-M front suspension geometry and a 40-inch stance between its Yamaha MTN skis. It Challenger track has 2-inch lugs.
One Viper, One Big Transporter
Two other unchanged returning models are the SRViper L-TX GT and the Transporter 800, each with their own unique focus.
The Viper is a middleweight trail runner, featuring Yamaha's time-proven 1049cc naturally aspirated twin that creates about 130 horsepower. With its heated seat, luggage, mid-height windshield and comforting powerband, it had a broad appeal for trail runners who think the Sidewinder's motor is overkill for their riding style. Fox QS3 shock are found all around. If this model sticks around long-term in Yamaha's lineup, we'd love to see one with power steering.
The Transporter 800 is now Yamaha's only full-sized utility crossover sled. Powered by the Arctic Cat 800 CTEC-2 engine and propelled by a 15- by 153- by 2.25-inch track, it's made to handle work and fun tasks on or off the groomed path. It's got a utility-focused skid frame with a lockable rear articulating section, a large rear rack, narrow ski stance, handlebar grab strap and rear hitch.
Family/Entry Level Sleds
Yamaha has four machines in the 7/8th-size chassis for 2022, and each of them get a small but important update for next season.
The SXVenom, SXVenom Mountain, Transporter Lite and Transporter Lite 2-Up all benefit from multi-position hand- and thumb-warmer switches. It may sound simple, but the system used on previous Venom/Transporter Lite models was either on or off – and it generated a surprising amount of heat when on. We found we couldn't ride with them either "on" all the time or "off" all the time – it was fire, then ice, then fire again.
Aside from that, new paint jobs are the primary change on these spunky little sleds. The unique-sounding, 397cc, liquid-cooled, two-stroke, single-cylinder engine is impressively spry, creating about 65 horsepower. The mid-sized ergonomics, meanwhile, are quite inviting to smaller-statured riders or young folks transitioning off of youth or vintage machines.
The base SXVenom spins a 14- by 121- by 1-inch track and is aimed at incoming trail riders. Its longboard sibling is the SXVenom Mountain, aimed at deep snow riders with its single beam rear suspension that carries a 146-inch challenger track with 2-inch lugs. Both of these machines carry an appealing black and blue color combination into next season.
The Transporter Lite and Transporter Lite 2-Up each spin a 146-inch Cobra track with 1.6-inch lugs. For 2023, they feature a unique Forged Blue and black color combination. The base model features a rear suspension with an articulating section at the rear, plus a 38-inch-wide stance up front with no sway back. The Transporter Lite 2-Up features straight rails in the skid frame plus a 40-inch-wide front end with a sway bar.
Also back with only color changes are Yamaha's two youth sleds: The SnoScoot and the SRX120R. The former is powered by a 192cc engine that makes 9.5 horsepower; the smaller-scaled SRX120R uses a 123cc engine that makes 6.5 horsepower.
Three Mountain Max Sleds
Once again there will be three full-sized mountain sleds in Yamaha's lineup, and each gets an update for 2023 that follows an ongoing trend in the snowmobile market: A shorter snowflap. Designers say the short flap creates less drag and allows the so-equipped sled to more easily shovel more snow, which is great is you're playing in deep snow but sucks if you're following one down the trail!
Aside from that change and a more dedicated approach to Yamaha blue paintjobs, the machines are unchanged for 2023. That means they return with what Yamaha calls the Mountain Single Beam Suspension (Alpha One in Arctic Cat language) and a 36-inch ski stance. Power comes from Arctic Cat's two-stroke 794cc semi-direct-injected twin.
Buyers can choose between two Mountain Max 800 LE models – one with a 15- by 154- by 2.6-inch PowerClaw track and the other with a 15- by 165- by 3-inch PowerClaw. Those models come standard with electric start.
The other option is the second-year Mountain Max LE 154 SL – so named because of its "super-lite" focus. It's almost 20 pounds lighter than the same-length regular LE model, thanks to the elimination of electric start plus a shorter seat. Weight saving was also a focus on its 154-inch track with 3-inch lugs.