Every year, Snow Goer magazine selects a Snowmobile of the Year based on which sled is pushing technological innovation, and then also the Top 10 Snowmobiles based on which sleds best serve their targeted submarkets within snowmobiling.
These aren't the Top 10 snowmobiles for any one individual snowmobiler, because the potential uses of a mountain sled vs. a crossover vs. an entry level machine varies dramatically. Instead, it highlights the sleds that best nail their niches. Here's our Top 10 for 2022, as published in the November 2021 issue of Snow Goer Magazine. There are in random order. To read about our Snowmobile Of The Year, click here.
Polaris Pro RMK Matryx Slash Patriot Boost 163
Just one short year after Ski-Doo changed the sport forever with the first factory-built turbocharged two-stroke, Polaris answered with the up-powered Patriot Boost powerplant. It's a masterpiece of engineering, with unique elements that allow it to deliver 10 percent more power at sea level and keep the power at that level up to 10,000 feet, yet it still reacts quickly even when the turbocharger isn't fully engaged. Even better, it's found in the Matryx chassis' first application for mountain riders that, in this Slash version, strips weight while adding features to make this sled even more agile in the backcountry.
Ski-Doo Renegade X-RS 850 E-TEC
A Renegade X-RS is an interesting dichotomy. In one sense, it's built to be a bully – with beefy KYB Pro shocks, reinforced running boards, a rack steering system and non-existent windshield harkening from the MXZx 600RS race sled. They all would seem to inspire a particularly hostile approach from riders when behind its handlebar. But that handlebar features premium controls and is adjustable for charging or cruising. The machine's fit-and-finish is sublime, and the rMotion X rear suspension is the sport's best in stutter bumps. The 850 E-TEC engine further accentuates the X-RS contrast: it's capable of delivering a mighty punch, yet is smooth running at any RPM.
Arctic Cat ZR 9000 Thundercat
When we asked our test team members to name the machines that most surprised them at the 2022 Rode Reports, the ZR 9000 Thundercat was a unanimous pick. It continues to be a lake-racer's dream, with a lowered ride height, adjust-on-the-fly ATAC shock system and a 200-plus horsepower engine that delivers on the promise of getting across the lake first. Those were known quantities. Now, Cat added electric power steering to its speed blaster, which helps mask the sled's weight and makes it easier to ride and less tiring on twisting trails. The sled also features Cat's new ADAPT clutch system for 2022.
Ski-Doo Summit Edge 850 E-TEC 165
There's no doubt that a Ski-Doo mountain sled belongs on any Top 10 snowmobile list for 2022. The question is, which one? The Rotax 850 Turbo engine is glorious, the narrow new stance on some spring-order Summits is appealing for select customers, but our team was most drawn to the new, full-season Edge. It has edgy (get it?) upgrades like the SHOT push-button restarting system, a short tunnel with a tiny snowflap and the lightweight mountain seat that were previously only available to customers who pre-ordered. And, that's on top of the REV Gen4 ergos, 850 E-TEC engine, tMotion skid frame, FlexEdge track and other features that make Summits so wonderful.
Polaris 650 Indy VR1 129
Last year the VR1 earned SOTY honors due to its innovative technologies. It returns as a Top 10 sled because it's a wonderful machine to ride. The Matryx chassis is a masterpiece, exhibiting supreme attention to detail when it comes to placing the rider where he or she can easily influence the machine in many ways. Quality suspension designs featuring top-notch Walker Evans Velocity shocks, a surprisingly stout 650-twin engine that hits like an 800, and impressive wind protection from a compact design add to the equation. Throw in the best-in-the-business 7S digital display with its mapping features, Smart Warmer control and more, and you've got a winning formula.
Yamaha Sidewinder L-TX GT
By adding electric power steering (EPS) to its high-mile-chasing, comfort-oriented Sidewinder L-TX GT, Yamaha didn't break new ground: Instead, it just made traversing more ground less taxing. Aside from adding in a varying amount of assistance when turning the handlebar based on the vehicle speed and other factors, the EPS also damps negative feedback from grooved or choppy trails that often forces riders to grip the handlebars harder, squeeze shoulder muscles tighter and generally ride more tense. The end result is a much more comforting ride that will leave riders of this particular Sidewinder less sore at the end of a day on the trails and more refreshed the next morning.
Lynx Rave RE 850
The new, hyper-aggressive Lynx Rave RE is not for everybody – and frankly some people who bought one may be disappointed. That's OK, though, because there was no subterfuge from BRP when this sled was unveiled. With its unique, uncoupled rear suspension, beefy shocks and ergos that encourage a rider to remain deep on the chassis, the Rave is for the most-assertive, mogul-crashing hooligans around. It's not going to be as friendly in the twisties or in trail chop as some other sleds – it's not intended to be. Instead, it's aimed at a very specific target market, and it fulfills their needs brilliantly.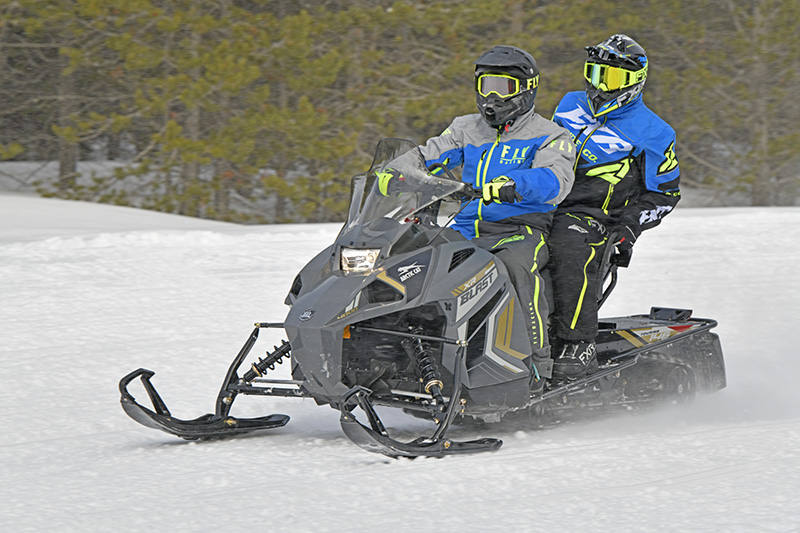 Arctic Cat Blast LT Touring
Every now and again, a snowmobile far exceeds expectations – but few as much as the new Blast XR Touring. A year ago, we were shocked by the amazing capabilities of Cat's Blast lineup. Who would have thought that a 400cc, single-cylinder engine on a small chassis could produce such fun? But then, when Cat slapped a longer track and 2-up seat on the platform for 2022, it seemed like a recipe for disaster – until we rode it. There was actually enough room for two mid-sized adults, and it wasn't tippy in turns thanks to the added anti-sway bar and wider front end. This is a well-designed snowmobile for a specific target market.
Ski-Doo Backcountry X-RS 146 850 E-TEC
The "50/50 crossover" class continues to fascinate some snowmobilers and flummox others. Is it even possible to make one sled have the off-trail capabilities of a mountain climber yet the handling capabilities of a trail burner? The answer is no, but the sled that gets the closest is the Backcountry X-RS 146. Officially, it only gets color changes and LinQ brackets as updates for 2022, but with every passing year designers seem to better dial-in this snowmobile, making it ridiculously fun when it's deep snow play time, yet a good rider can still huck it down a groomed path with a relatively high level of confidence.
Polaris Indy EVO
What's great about the Indy EVO is that it's not intended to be a great snowmobile. As odd as that sounds, there's sound reasoning behind the statement. The EVO features a somewhat lethargic fan-cooled 550cc engine (which will now be U.S.-built) on a lowered version of the dated Pro-Ride chassis. It gets upgraded to IFP shocks for 2022, but keeps its limited-grip Shockwave track with .91-inch lugs. To most snowmobilers, it's a straight-up "meh" of a sled, but it's not aimed at you. By far, its most important feature is its pricetag: Its $6,199 MSRP is more than $2,000 cheaper than a Blast or an MXZ Sport. That truly entry level-pricing well-serves its niche, and the snowmobile market long-term.
Editor's Note: Every Snow Goer issue includes in-depth sled reports and comparisons, aftermarket gear and accessories reviews, riding destination articles, do-it-yourself repair information, snowmobile technology and more. This Cold Tested write-up was first published in the October 2022 issue of the magazine. Subscribe to Snow Goer now to receive issues delivered to your door or your computer for a low cost.