A new snowmobile, with a newish chassis, a new engine and featuring truly leading edge shocks? How could it not be the Snowmobile of the Year? As the first trail machine to come with Fox internal floating piston gas shocks, the 1991 EXT Special stood out. Below is the article honoring it, first published in the March 1991 issue of Snow Goer magazine.
While we admit that there were three or four machines that were on the top of everyone's list for the 1991 Snowmobile of the Year, there was little debate as to which one deserved this year's top honors. The Arctic Cat EXT Special combined power, handling, ride, acceleration and durability. Utilizing the Prowler chassis, the all-new EXT Special is as at-home on the trails as it is on the race tracks of North America. It can provide a silky smooth ride on freshly groomed trails and it can take you through the deep Rocky Mountain powder without fail. It handles as well at trail speeds as it does at top speed across a frozen lake. And, perhaps the best feature of the EXT Special, it can take on even the worst moguled trails and provide you with a first-class ride.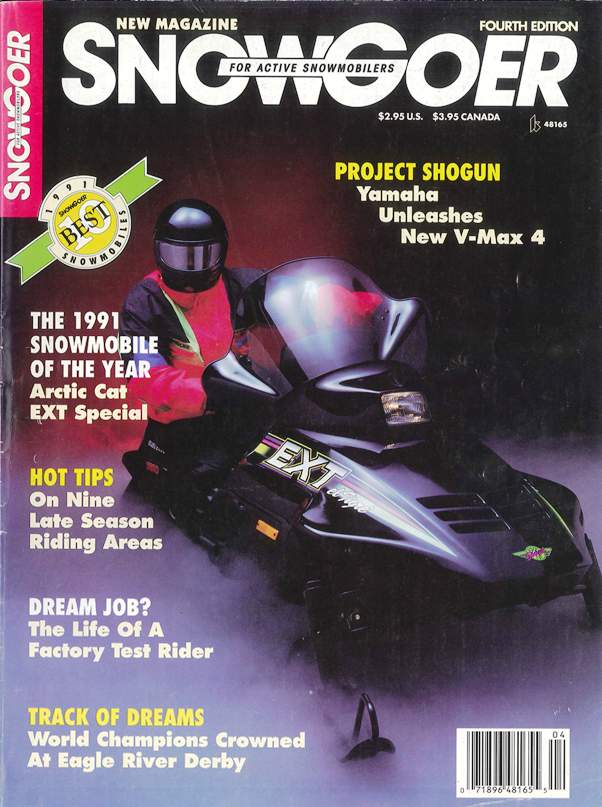 Our 1991 Snowmobile of the Year is high-tech from top to bottom, front to rear, with the best chassis design in the sport. The look and feel of this sport/performance machine is impressive, from the lightweight design to the impressive fit and finish. The EXT Special features a wide 39-inch ski stance for stability, combined with remote-reservoir Fox gas shocks. These shocks are adjustable and rebuildable for total riding enjoyment, regardless of terrain conditions. Fox shocks also come standard on the rear suspension, giving the EXT Special the best overall ride in snowmobiling.
Under the hood, the EXT Special offers a new 550 piston-port, liquid-cooled twin, fed by a pair of Mikuni 38mm carbs. This all-new motor provides quick starts, smooth mid-range and true top-end performance. Most impressive on this engine package is the low-end torque, one reason the EXT Special has been virtually unbeatable on the oval track this season. While the new motor is impressive, what we really liked about the EXT Special was its ride, with a full 7 inches of double wishbone travel up front and an industry leading 8.5 inches in the rear.
At $5,699, the EXT Special isn't the most expensive machine in snowmobiling, but pound-for-pound and dollar-for-dollar, we think it is the best buy on the market. Other features that make the EXT Special truly something special include Arctic's aerodynamic fairing (with stationary halogen headlight) and handlebar-mounted instrument pod, hand and thumb warmers and ski carbides. All of this in a lightweight, easy to ride and visually attractive package that makes the Arctic Cat EXT Special our choice as the Best of '91.
Article from the March 1991 issue of Snow Goer magazine