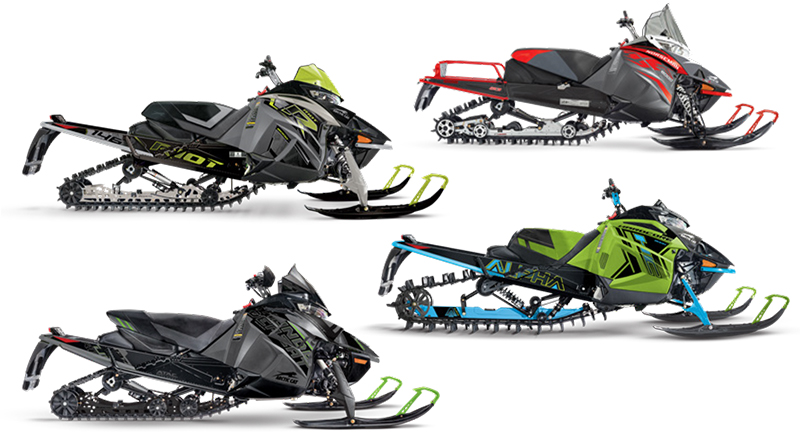 In a stunning development, Arctic Cat today released details on not one, not five, but 24 model year 2021 machines – backing up claims made in September by Cat Vice President Craig Kennedy that the brand is alive, well and charging into the future challenging the norms of the snowmobiling business.
Released October 18 were details on nine Alpha One Mountain Cat/Hardcore mountain models, eight full-sized ZR trail machines, four Riot crossovers, two ZR youth sleds and one utility machine – most of which include also include updates for 2021.
Moreover, in a letter to the media that accompanied the information on the new models, Kennedy said these machines are just a preview of what's to come – another group of models will be launched next month.
"You will not see all of the exciting new product innovations we have for Model Year 2021 until mid-November," Kennedy said, while also noting that Cat will continue its so-called "Snowmageddon" sales focus – which for model year 2020 meant that all of its models had to be pre-ordered, with no in-season models available at dealerships. As further enticement, 2021 models ordered before December 31 of this year will get discounts on accessory packages for their machines.
Let's preview the new technology and models that have been announced so far! [EDITORS NOTE: Click here to see the models Cat released in November of 2019]
New Tech
The changes announced for 2021 aren't overwhelming so far, but they are notable, and some run rather deep throughout Cat's lineup.
Most notable, the Torque Control Link (TCL) plate found on the PTO side of the engine that essentially links the primary and secondary clutches, ensuring consistent center-to-center distance and absorbing vibration, will be made of carbon fiber on so-equipped 2021 models – That strips 2.5 pounds off of each machine, and further improves engine vibration damping, according to Arctic Cat.
The new TCL will be found on the adult-sized, two-stroke powered ZRs, Riots and Alpha One Mountain Cat/Hardcore models released so far.
The adjust-from-the-handlebar Fox iQS shocks are back for another season and appear to be expanded to more models, but now instead of being called the interactive Arctic Cat Techology (iACT) system when on a Cat, the shock package will be called the Arctic Technology Adjustable to Conditions (ATAC) suspension. Accordingly, sleds with the system get a name change – with ATAC instead of iACT as a suffix. The function is the same, though – with the driver being able to toggle between soft, medium and firm settings on the Fox iQS shocks on the ski suspension and skid frame's rear arm, and the settings can be programmed separately through the Driver 1 and Driver 2 gauge settings, an adaptation made for 2020.
For youth riders, Cat has new suspension springs on its ZR 120 and ZR 200 models that will have five pre-set notches for easy adjustment for varying riding conditions or riding styles.
Now let's look at the models that have been released so far, by class.
ZR TRAIL SLEDS
ZR models with three different engine options were announced on October 18 – with 600- and 800-class two-stroke models powered by Cat's exclusive engines, plus 9000-series models featuring the turbo-charged 998cc Yamaha four-stroke.
The two-strokes get the aforementioned carbon fiber TCL plus longer, 17-inch, single-bar carbide runners replacing the 11-inch dual runner Cat has used on its skis in recent years.
In the 600-class, models announced so far are the ZR 6000 137 ES LTD QS3 (with Fox Zero QS3 shocks above the skis and on the rear arm with manual clickers), a ZR 6000 137 LTD ATAC (with Fox iQS chock in those locations, controlled from the handlebar), plus with a 137-inch RipSaw II track with 1.25-inch lugs; and the aggressive, cross-country-racing focused ZR 6000 R XC with aggressive suspension settings, Fox Zero QS3R Kashima-coated shocks in key locations, a short windshield and a 137- by 1.35-inch Cobra track.
That same pattern is followed in the 800-class, with ZR 8000 137 ES LTD ATAC and QS3 models separated by their shock type in a similar pattern as in the 600-class, plus a more aggressive ZR 8000 137 ES RR model, with Fox Zero QS3R Kashima-coated shocks and a short window.
Specs were also released on two ZR 9000 137 Thundercat models separated in name and spec by – you guessed it – shock type, with a ATAC model and a QS3 model.
Every ZR released so far has a 137-inch track – time will tell whether any 121- or 129-inch models are a part of Cat's future.
RIOT CROSSOVER MODELS
Four Riot models were a part of the 2021 model early announcement. As a refresher, the Riot was Cat's new name for its true crossover models beginning for model year 2020, with a new, uncoupled Cross-Action rear suspension, adjustable 41.5 to 43.5-inch front suspension and a 15- by 146-inch Cobra track. Models for 2021 released so far, though, have shorter-lugs tracks than the primary 2020 models.
Released so far are a Riot 6000 ES IFP 1.6 powered by Cat's 599cc dual-stage injected twin engine, and featuring Cat's own IFP shocks on all four corners, plus three different Riot 8000 models with the second-year semi-direct injected 794cc twin, separated in name by shock type and lug height. There's a Riot 8000 ES IFP 1.6 with those same Cat IFP shocks and 1.6-inch track lugs; a Riot 8000 ES QS3 1.35 model with Fox Zero QS3 shocks on the ski suspension and the rear arm and 1.35-inch track lugs; and a Riot 8000 ES QS3 1.6 with the same shock package and 1.6-inch lugs, plus more graphics options.
With the information recently released, Cat noted that the Riot 8000 models also get the carbon fiber TCL, plus the 11-inch runners noted in the ZR section. No word, yet, on if the Riot 6000 model will receive these upgrades.
MOUNTAIN MODELS
Unless you've been living under a rock (or at least haven't been checking this website nearly enough), you're well aware that Cat offered a game-changer to mountain riders when it introduced its single-bear Alpha One rear suspension for the 2019 model year. It didn't take long for the technology that allows riders greater flexibility when side-hilling, while also performing its duty to auger out from deep powder days to latch on: For 2020 the company offered its entire mountain lineup utilizing the technology.
As a part of its official early release, Cat announced it is brining back the M 8000 Mountain Cat and the M 8000 Hardcore Alpha One for 2021.
The M 8000 Mountain Cat offers two versions (with 154- and 165-inch track lengths) and four total models (each having a manual and electric start version). All models are offered with a two-stroke 794cc liquid-cooled engine, and come with matching PowerClaw tracks featuring 3-inch lugs. Each version also features the Arctic Mountain Suspension (AMS) front suspension and Alpha One rear suspension with Fox FLOAT 3 QS3/QSL front and rear track shocks. The sleds will be offered in fire-red dynamic graphics with an LED headlight with accent light and standard goggle holder/tunnel bag.
Offered in the same engine package as the Mountain Cat, the Hardcore lineup featured five total models that vary only slightly with both track and shock options.
While featuring the same AMS front and Alpha One rear suspensions, the Hardcore lineup features Fox 1.5 Zero QS3 coil-over ski and track shocks. Track options include a 15- by 154- by 2.6-inch PowerClaw (both manual and electric start versions), a 15- by 154- by 3-inch PowerClaw (manual start) and a 15- by 165- by 3-inch (manual and electric start). Available with the same deluxe digital gauge and storage space as the Mountain Cat models, it's also offered with hyper green/black graphics.
New for this season, both the Mountain Cat and Hardcore models will feature revised calibrations on all Fox FLOAT QS3/QSL shocks and springs to improve impact absorption. They also come standard with the new carbon fiber TCL engine mounting system. Alpha ice and snow scratchers will also come standard for better cooling and lubrication.
YOUTH SLEDS
It's been discussed often that for the entire snowmobiling industry to remain healthy, a new and younger generation of snowmobilers needs to become involved. As a result, it's no surprise that for 2021 Cat returns with its ZR 120 and ZR 200 youth sleds aimed at just that.
The ZR 120 offers an introduction to the sport for any young rider, offering a 123cc air-cooled engine with 10- by 67- by .75-inch track – combined they are offer a ride that's ready to rip, no matter the experience level. A safety flag, hand warmers and standard tether switch only increase the experience.
For 2021, a new front ski/shock assembly offers five unique settings that allow up to a 50 percent increase in stiffness from the base setting, and can be adjusted by the simple twist of a knob as a rider ages and increase confidence (accessory tool required).
For those slightly older and/or more experienced behind a handlebar, Cat again brings back the ZR 200 – a sled that officials claim to be a "top seller and clear standout" in its lineup, despite its diminutive size. Offering a 192cc four-stroke engine propelled by a 10- by 93- by 1-inch track, all 2021 models also come standard with the new five-setting ski/shock assembly, but on both its front and rear (as opposed to only the front on the ZR 120). Its rear suspension has also been redesigned this season with minimal parts to reduce weight and provide a brand new aesthetic.
If the goal is to, "hook 'em while they're young," you now have two solid bait options at your disposal this season.
NORSEMAN UTILITY SLED
Arctic Cat seemed to be gaining momentum with its relatively new Norseman utility crossover machines and expanded it for 2019 but then, surprisingly, not only abandoned it for 2020, it handed the model over to Yamaha as a Transport 600.
Consider it a blip, because the Norseman X is back again in 2021.
Similar to before, the Norseman includes an articulating section at the back of the Xtra-Action rear suspension, which helps prevent trenching when backing up off trail and lets the sled benefit from added flotation off-trail while not acting too "long" when on hardpack trails.
For 2021, the Norseman follows its siblings' lead by dumping dual-blade runner and switching to a 4-inch, single bar carbide runner.
Its two-stroke 794cc liquid-cooled engine is propelled by its 15- by 153- by 2.25-inch PowerClaw track cushioned by Arctic IFP 1.5 ski shocks and ARS front suspension. A standard electric start, tow hitch and tunnel bag come ready to get the job done.
Which model released has you most excited for the season? Be sure to leave your comments below!
Editor's Note: Every Snow Goer issue includes in-depth sled reports and comparisons, aftermarket gear and accessories reviews, riding destination articles, do-it-yourself repair information, snowmobile technology and more. Subscribe to Snow Goer now to receive issues delivered to your door or directly to your computer for a low cost.