Yamaha is marking its 50th year in snowmobiling by launching some truly innovative and new-to-sport shock absorber technol­ogy on Apex models for 2018, bringing back the SnoScoot as a "tweener" sled and widely expanding the reach of its mega-powerful Sidewinder engine in a renewed M-TX mountain platform.
In all, Yamaha's 2018 lineup is 35 models deep, with notably more turbo-powered Sidewinder models (18 in all) and fewer of just about everything else. There will be only one Phazer model and one RS Vector, and the total number of SR Viper models powered by the 1049cc triple drops from 11 to 5. There will only be two Apex models, but they will house some of the interesting new tech­nology, so let's begin there.
Linked Front Shocks On Apex
The new-to-sport shock system found on Apex LE and Apex X-TX models – called Yamaha Reactive Suspension System (YRSS) – links the two shocks in the front suspension by us­ing a single, center-mounted remote res­ervoir that holds the nitrogen gas charge for both shocks. According to Yamaha officials, that link changes the handling characteristics of the snowmobile by al­lowing the front end to share the suspen­sion load in corners, thus keeping both skis on the ground longer and allowing the front end to squat in corners.
The YRSS system was actually first developed by a separate Yamaha division for the automotive industry, where it was called REAS (RElative Absorber System). Its aim was to control side-to-side roll damping in cars and trucks, and it has been used on select Toyota, Audi and Peugeot models, most notable the 4Runner, said Jon Blaicher, Yamaha snowmobile product planning manager.
When Yamaha officials took this ap­plication to the snowmobile and renamed it YRSS, the missions were flatter and thus faster cornering, better tracking and easier handling.
Here's how it works: Above each ski is a traditional-looking coil-over shock with some plumbing attached at the top. The hose from each shock connects to a large remote reservoir found above clutch cover. "Each shock absorber still has damping – it still has a valve stack in it, but it doesn't have any gas pressure," Blaicher said.
When driving into a corner on a nor­mal sled, the weight transfer on the front end causes the shock on the outside of the corner to get weighted and increase in internal pressure, and the shock on the inside of the corner is unweighted. Eventually with a traditional design, depending on speed or force, the inside ski will lift or the outside ski will scrub, Blaicher noted.
With YRSS, the shared reservoir makes it so the pres­sure normally exclusively exerted on the outside shock is shared with the inside shock. That, in turn, has many positive effects, Blaicher said. First, it makes the inside ski far less likely to lift in a corner, he said. Also, if the outside ski encounters a bump, it still has more of its initial shock stroke left availble. Finally, the transfer of some pressure from the outside to the inside shock causes the sled's front end to squat in corners, thus lowering the sled's center of gravity, he said.
Also, a rider can control over how they want the front end to feel utilizing a bypass valve above the shared remote reservoir to vary how independently the two shocks act. The Apex models with the YRSS technology will wear 50th anniversary white, red and black graphics.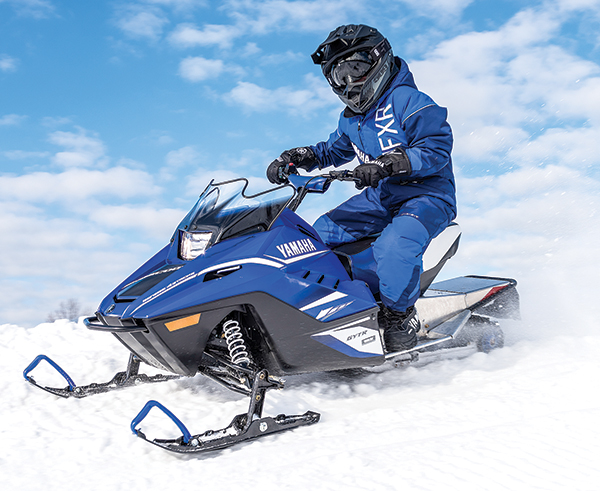 SnoScoot: Aimed At Future Riders
Details about the model that Yamaha is calling the SnoScoot were released earlier today when Arctic Cat's 2018 model lineup was announced and included the same exact sled, which Arctic Cat calls the ZR 200. The idea originated, however, with Yamaha, and Team Blue has some specific plans to use it to try to grow the sport. It will retail for $3,799.
For the uninitiated (or those who didn't read the Arctic Cat details), the SnoScoot is essentially an oversized 120-class sled – it's 12.5 inches longer and 1.5 inches wider than a SRX 120 – with one monstrous caveat: It's legally and technically an actual snow­mobile. The machine has been designed to pass all of the Snowmobile Safety and Certification Committee (SSCC) standards related to everything from its headlight output, placement of reflec­tors, seat density, etc., unlike all 120-class snowmobiles that are essential­ly motorized toys. That makes the SnoScoot trail legal in many areas (though rules related to minimum age for trail riding varies by state and province).
The SnoScoot is powered by a time-proven, 192cc, fan-cooled, four-stroke single rated at 9.1 hp. The engine comes from Yamaha's generator and pressure washer division, though the engine will be spun up a little higher (5400 rpm) in a snowmobile application. It has a transistorized electronic ignition, snowmobile-style clutches and can pull a right-sized rider over 30 mph. The brake is an off-the-shelf unit from the mountain bike industry, and the sled is propelled by a Cobra track with 1-inch lugs.
Yamaha officials speculated that about 70 percent of the SnoScoots will be sold to existing snowmobile families who are looking for a step-up sled for youth too big for their 120s, or even for small adults looking for something on which they can goof around.
However, Yamaha officials stressed that finding buyers for the other 30 percent of the machines will be a key to its success – and the future of snowmobiling. The company's goal is to find outdoorsy, family-oriented folks who have big yards or who own or have access to cottages or cabins in the Snowbelt who will use the inexpensive and fun SnoScoot to introduce their kids, and themselves, to snowmobiling.
Big Focus On Big Mountain Power
Yamaha officials acknowledge that a heavier, four-stroke snowmobile is at a disadvantage in mountain powder, but there is a caveat: If that heavier machine is powered by the sport's most powerful engine – and a turbo-charged engine that's not as affected by altitude as its competition – then the playing field starts to look a whole lot more level, Yamaha officials said.
With all of this in mind, Yamaha is dropping all of its SRViper M-TX models while expanding its Sidewinder M-TX lineup from one to six models, with new bodywork, new suspension geometry, interesting new shock absorbers and more track options.
Many of the changes made to the Sidewinder M-TX line are shared with the late-release 2017 Arctic Cat M 9000 King Cat announced at the Haydays Grass Drags & Swap Meet in September. They include new ergo­nomics that let the driver get farther forward; a lowered chaincase and eight-tooth drive sprockets that give the track a flatter approach angle; new in­take venting beneath the handlebar; and narrower running boards. Body panels, meanwhile, are sculpted more tightly in a narrower package.
The spring-order-only 2018 Side­winder M-TX LE models also get an interesting new shock package from Fox that is shared with Arctic Cat. Fox FLOAT QS3 shocks are found on the ski suspension and the skid frame's front arm, but it's the FLOAT QSL shock on the rear arm that's drawing all of the attention.
Similar to QS3 shocks, the QSL has a three-position dial on the remote reservoir. However, QSL allows mountain riders to choose between soft, medium and the new "climb lock-out" mode. In this mode, the rear shock is very stiff, and that allows riders to keep the skis close to the ground when accelerating up a big hill or mountainside by overcoming the rear suspension's natural tendency to squat upon acceleration.
Spring-order Sidewinder LE models will be available with a 162- or 153- inch long PowerClaw track with 3-inch lugs. In-season available Sidewinder M-TX SE models – available with the 162- and 153-inch tracks with 3-inch lugs – will be quite similar, except with new Fox FLOAT 3 shocks all around and a new gray and high-visibility green color option. More price-conscious and lighter will be the base Sidewinder M-TX models, with HPG shocks and 2.6-inch lugs on either a 162- or 153-inch PowerClaw.
Other Spring-Only Models & Updates
The unique YRSS shock technology will be limited to 50th Anniversary Apex models for 2018, but there will be six other 2018 models that will carry Yamaha's 50th An­niversary graphics package and other upgrades. Five of those 50th Anniversary models – Sidewinder R-TX LE, L-TX LE, B-TX LE and M-TX LE models along with a SR Viper L-TX LE – will be available only for customers who order their snow­mobiles in the spring. The sixth 50th model is a SRX 120 that carries the stylish white, red and black graphics but will be available all year.
Aside from the graphics, the Sidewinder R-TX and L-TX LE plus the SR Viper L-TX LE models will come with a premium shock pack­age including Fox QS3R dampers on the ski suspension and rear arm, a heated seat and a deluxe tunnel bag, while the B-TX LE comes with QS3 shocks on all four points and a 2.25-inch PowerClaw track that its in-season brother – the B-TX SE – won't get. Yamaha also has upgraded luggage on some models.
Meanwhile, Yamaha is getting wilder with its colors and graphics for 2018, opting for a head-turning, high-visibility yellow/green color option on select models throughout its lineup. Plus the work-oriented VK Professional gets electric power steering for 2018.