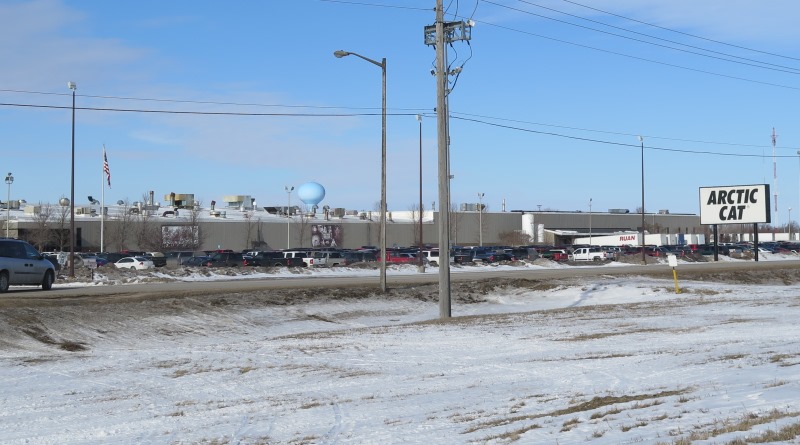 Arctic Cat/Textron, Polaris and Yamaha are among the major companies who have recently shut down factories in the U.S. as a result of the Conoravirus, but at this point the impact on the snowmobile world is unclear.
     Textron announced the changes that were happening at its Thief River Falls, Minnesota, Arctic Cat facility late last week – although the furlough of employees was not tied directly to conditions in Thief River right now. Instead, officials said that parts and components sourced from Europe and Asia and needed for manufacturing had become increasing difficult to attain, which in turn messed with the production process at the Cat plant. The shut down is expected to last at least three weeks, a Cat official told the Grand Forks Herald.
     Yamaha started its shutdown of U.S. manufacturing facilities on Friday, March 20, quieting factories in Georgia, Tennessee, Texas, Missouri, Indiana, Florida and Wisconsin. Those factories mainly produce off-road and marine product, though. The vast majority of Yamaha snowmobiles – and all that are produced in the U.S.  – are built by Arctic Cat in Thief River Falls.
     "The well-being of employees is of utmost importance," said Bob Starr, corporate communications manager for Yamaha Motor Corp, U.S.A., in a press release published on PowersportsBusiness.com, our sister publication "This step is being taken with the factories to protect the health and safety of all team members, their families and our local communities."
Polaris announced on March 23 that its shutdown of multiple facilities would begin March 24 and would impact U.S. factories in Minnesota, Iowa, Wisconsin, Washington and Alabama as well as plants in Mexico and Poland.          
In the press release on its shutdown, Polaris CEO Scott Wine said, "As we confront the COVID-19 pandemic, we are focusing on the health and safety of our employees, dealers, customers and the communities where we operate, while also taking bold action to protect our business. We have been aggressive with employee safety and supply chain mitigations actions, so our plants have operated effectively to meet the strong retail momentum we saw at the start the year, through the second week of March. As anticipated, pandemic concerns ultimately began to impact demand, which dropped suddenly in the middle of last week, and we are adjusting our operations accordingly."
Melissa Rowles, the senior associate marketing manager for the Polaris snowmobile division, told Snow Goer today that there is no expected impact on Polaris' snowmobile division – including no impact on the Snow Check order period that wraps up on April 15, and no changes in snowmobile production, which normally gets going in earnest later in the year.
At this point, BRP hasn't made any broad proclamations, though a BRP official did point out that the governments of Ontario and Quebec are both actively considering shutting down various segments of their economy – much like in many states in the U.S. – to stem the growth of the virus, so the situation could change soon.  
From a snowmobile industry perspective, the timing of this pandemic isn't the worst — it has shut down the riding season is some areas a tad early and could potentially make some buyers skittish about spring ordering a 2021 model, but it's far from prime-time for dealerships, consumers, riding areas and for factory assembly of new machines.
Editor's Note: Every Snow Goer issue includes in-depth sled reports and comparisons, aftermarket gear and accessories reviews, riding destination articles, do-it-yourself repair information, snowmobile technology and more. Subscribe to Snow Goer now to receive issues delivered to your door or directly to your computer for a low cost.