Founded as a go-kart manufacturer in 1959, Rupp Industries was a performance-oriented company from the start. Entering the emerging snowmobile market in 1965 with its new Sno Sport, the first sled with an aluminum chassis, it soon became one of the industry leaders in engineering, styling, racing successes and unit sales.
The 1971 Rupp 44 Sprint was a transition model from the 1960s "Tin Lizzie" era of snowmobiling to a time of better product quality and performance, improved safety measures and reduced sound emissions, so it's a good illustration of the changes that sleds were going through at the dawn of the decade that shaped the modern industry and sport.
Signs Of Progress
Rupp already had a snowmobile that was more advanced than most of its competitors. For 1970, a signify cant restyle to the flashy red sleds included a new hood with racing-style, quick-release pins and a new front bumper with reflective decals at the back ends. Rupp also discarded the Sno Sport name in favor of Sprint for sleds with 15-inch tracks and Wide Track for the 18-inch models. The 1971 44 Sprint was essentially a further upgraded 1970 Sprint 44 (note the slight variation of nomenclature) that incorporated more far-reaching upgrades.
Easily identified by the new and distinctive white decals on the sides of the hoods of '71 sleds, the major changes were inside. Like many leading manufacturers, Rupp was transitioning from using industrial engines from multiple manufacturers to utilizing an exclusive supplier of engines that were specifically designed for snowmobiling. So all of its '71 440 models got the new Rupp-designed engine built by Tohatsu in Japan while the other '71 Rupps continued with various JLO, Sachs, CCW and Hirth power.
All models, however, got new freeze-proof, low-friction throttle and brake cables and a new extra-large disc brake. Another new feature, an engine console to reduce noise emissions, was planned for the 440s but did not appear on at least some of the production sleds. All models had a lower center of gravity for better stability that helped the handling that was already good for a machine with the engine on the tunnel, and the passenger grab bars were now slanted upward for increased comfort.
Snow Goer tested a '71 Rupp 44 Sprint on Mt. Hood in Oregon and came away very impressed. "It's light and frisky and handles well in varying snow terrain," the testers reported. "The aircraft aluminum frame shaves down total weight and helps the sled float over deep snow."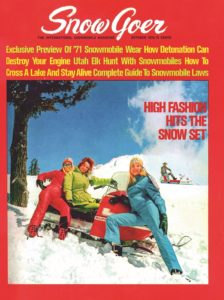 Test riders also liked the sled's "dramatic styling," mentioned that the hood tilted up for easy access to the engine (in addition to lifting off completely after removal of the two quick-release pins), and they liked the storage space in the backrest.
"The sled was very responsive, braking and turning like a machine you'd expect from a young company that got its start in racing," summarized the test crew.
Michigan Rupp enthusiast Mitch Kintigh has his own feedback about the popular model.
"Clutching was one of the strong areas for the 1971 Sprint," said Kintigh, who owned a '71 44 Sprint for several years.
Kintigh backed up the SG testers on the handling, too.
"The Rupps always turned real good compared to the others," he explained. "There was only about 3 inches of travel in the rear suspension, which is about all any of the manufacturers had that year."
But it wasn't all good that winter. The Tohatsu-built 440s suffered crankshaft problems. Rupp stood by its product and dealers repaired many of them. The Keihin carbs were troublesome and often replaced with Tillotsons. The two-bolt intake manifold assembly tended to suck gaskets, making the motor go lean and burn down, and the single-drive tracks only lasted two or three years.
This litany of mechanical problems accounts for why so few of these sleds are seen now. It is also worth noting that other brands, including Polaris and Arctic Cat, also went through similar problems with their first brand-exclusive engines from Japan. And like other brands, Rupp weathered the storm. The Tohatsu engines became a solid success, powering most new Rupps for the next three seasons, including some successful race sleds in the Stock and Modified classes.
Peak Out
Rupp built more than 27,000 units for model year 1971, putting the company solidly in the industry's top 10 manufacturers. Despite the problems, sales were pretty solid, leaving Rupp with fewer leftover sleds than almost any other company with comparable or greater production.
For 1972, to meet the new United States Snowmobile Association (USSA) Stock racing rules, the Sprints evolved into the famous Nitro series. The company built about 29,000 units that year to mark Rupp's high point in snowmobiling.
EDITOR'S NOTE: This Flashback article from International Snowmobile Hall of Fame writer David Wells first appeared in Snow Goer magazine. To see more of Wells' great articles on interesting old sleds, plus in-depth new sled evaluations, aftermarket product tests, informative how-to story, interesting travel features, Snowmobile Science articles and much more, subscribe to Snow Goer magazine.