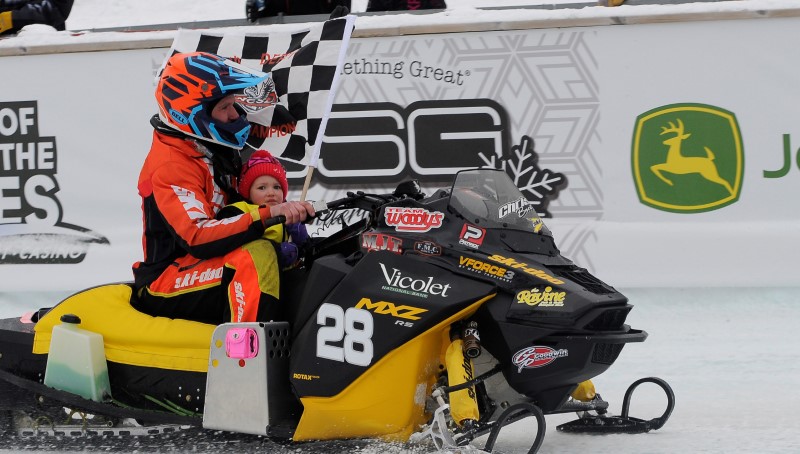 Since a particularly nasty and injury-inducing snowmobile racing accident in 2017, Matt Goede's racing career has epitomized the concept of a comeback story. But Sunday in Eagle River, Wisconsin, the driver of the No. 28 Ski-Doo completed the story with an epic World Championship victory on an ice oval track. His will be the 60th name on the Snow Goer Cup.
Goede, 34, led most of the 25-lap World Championship final, but was battling the rough track, dulling carbides, lapped traffic and highly iced-over goggles that obscured his vision. Then he got passed and was running a distant second place to four-time World Champ Blaine Stephenson when the drivers took the white flag.
However, Stephenson's own teammate crashed in turn four and brought out a red flag and eventually a green-white-checkered restart. On that restart, Stephenson's sled lost traction while Goede hooked up and jetting into turn one. He then opened a big lead and stormed away to a historic victory.
After an emotion victory lap with his daughter, Goede was soon hoisting the Snow Goer Cup over his head as the sport's World Champion, cementing his place in history before a large and rowdy crowd in Eagle River.
"Blaine should have won," an emotional Goede said after the race. "We definitely got lucky with that caution. The biggest thing is I couldn't see at all anymore, my goggles were completely iced over. Without that red flag we weren't going to win but that's kind of the way it goes sometimes, and I'd rather be lucky than good."
The Chase To The Race
An impressive 30 drivers entered the Formula III World Championship class at Eagle River, and it had a bunch of all stars from oval sprint, enduro and cross-country racing. Over the course of Friday and Saturday, the field was pared to 10 fast front row qualifiers. Sunday two more drivers earned their spots in the big dance.
Matt Goede of Mayer, Minnesota, and Blaine Stephenson of St. Cloud, Minnesota went in as co-favorites after acing through qualifying. Joining them in the front row were defending champion Jay Mittelstaedt, multi-time national points champion Gunner Sterne, veteran oval sprint racers Tom Olson and Colt Dellandrea, rising oval sprinters Calvin Cook and Luke Olson, and flying Michiganders Zach Dewald and Andy Shoemaker of enduro and vintage racing circles (pun intended).
Sunday, Canadian Mike Vandolder and Eagle River native and cross-country racing star Zach Herfindahl earned a spot in the dance on his first try in oval racing. They would start about 30 feet behind the aforementioned 10 on a seasonably warm, cloudy Sunday after, with a very light mist in the air.
The Final
When the green flag was lifted off the starter's boot to start the final, Lodi, Wisconsin, native Tom Olson won the race to the first turn on his No. 39 Wahl Bros. Polaris, but he had pre-race favorites and fast two qualifiers Goede and Stephenson in his immediate wake. Olson's lead lasted for about one and a half laps, when Goede grabbed a strong low line coming out of turn two and then drove past Olson into the lead halfway down the backstretch.
Stephenson then sliced past his teammate later on the same lap. Defending champion Jay Mittelstaedt ran fourth, followed by Olson, Sterne and Dewald.
Goede then opened up an impressive lead right away. He had about a 15 sled-length lead on Stephenson by lap three, and those two were pulling far away from the rest of the field. Five laps in, it was Goede, Stephenson, Olson, Mittelstaedt and Dewald, with Dellandrea moving up through traffic on his blacked-out No. 53.
Running a middle line that kept him above most of the carbide-dulling dirt, Goede ran smooth lap after smooth lap, and built his lead to almost a full straightaway over Stephenson, who got blasted from behind on about lap 10 by Luke Olson in turn three. The contact sent Stephenson over a snowbank and into the infield for a second – he drove back out onto the race course and legally re-entered, but the incident would send odd ripples through the rest of the race.
When Luke Olson hit Stephenson, Luke Olson broke his ski loop – and that's a safety violation that brings out a black flag because that unlooped ski could be a spear if it hit somebody later in the race.
The problem was that somehow race scoring got their details crossed, and both Luke Olson AND Blaine Stephenson were shown the disqualifying black flag. In fact, Stephenson was shown the black flag twice, but he kept going and started closing on Goede.
"When Luke hit me, I saw his ski loop was broken and I figured they were giving it to him," Stephenson told us after the race. "The first time I saw it I figured he was still pretty close behind us, but then Rico gave it to me again and I was like, 'Man, they're going to have to pull me off the track!' There was no use in stopping, right? I looked over and saw my ski loop was still [attached], and our taillight is hooked to the motor so it shouldn't be out."
At the race's mid-point, the running order was Goede, Stephenson, Tom Olson, Dewald, Dellandrea, Mittelstaedt, Shoemaker, Herfindahl, Cook, Vandolder and Sterne, with Luke Olson off the track. Like Stephenson, Mittelstaedt soon has his own off-track adventure going over the snowbank in turn down, powering through deep snow and re-entering the racetrack.
Run For Roses
Goede's lap times started to slow – we'd later find out it was a combination of dulled traction products and limited visibility. With eight laps to go, Stephenson caught Goede in turns three and four and drove right up beside him in turn four, but Goede reclaimed the lead on corner-exit. Stephenson then used a similar line to power past Goede and into the lead with seven laps to go. Oddly, though, due to that phantom black flag the track announcers were saying that this wasn't a pass for the lead because Stephenson was supposed to be out of the race.
Stephenson pulled far ahead of Goede and was running away and hiding. Race scoring announced that Stephenson WASN'T disqualified and was leading, and he took the white flag as the leader when the unexpected happened behind him. His teammate Tom Olson who was running third looked like he caught an edge in turn four and got dumped off his sled and onto the race surface, bringing out a red flag. About racing for 24 laps, the racers would be re-racked on the straight away for a green-white-checkered run for history.
While the race cleaned up Tom Olson's sled, Goede personally changed his right-side carbide – a move that is allowed during red flags as long as a racer has the parts and tools with him and doesn't get help from his crew.
When the sleds were lined back up staggered in their previous running order for the restart about 10 minutes later, it was Stephenson, Goede, Dewald, Dellandrea, local boy Herfindahl, Shoemaker, Mittelstaedt, Cook, Vandolder and Sterne, with both Olsons out. Only the top five, though, were on the lead lap so ultimately the race would be decided by them.
On green, Goede launched passed Stephenson, who had his track spin and not hook up off the starting line. Stephenson entered turn one as the fourth sled, behind Goede, Dewald and Herfindahl. Stephenson reclaimed third coming out of turn two but Goede and Dewald were already zooming down the backstretch. Goede ran two perfect laps and cemented his spot in history as the 2023 World Champion.
The unofficial finishing order, as we saw it, was: 1. Goede (Doo); 2. Dewald (Pol); 3. Stephenson (Pol); 4. Herfindahl (Cat); 5. Dellandrea (Cat); 6. Shoemaker (Pol); 7. Mittelstaedt (Pol); 8. Van Dolder (Doo); 9. Cook (Pol); 10. Tom Olson (Pol); 11. Gunnar Sterne (Doo); 12. Luke Olson (Pol).
Words With Champs
There were hugs and handshakes by the racer paddock, as teams, crews and other racers went over to congratulate Goede. Stephenson, meanwhile, parked his sled briefly in turn two and took a mental break, seemingly in disbelief over what happened on that restart.
Goede eventually pulled up to the front stretch, was handed the checkered flag and then was joined on his sled by his 2 year old daughter, Anna, for a brief victory lap up and down the front stretch in front of a roaring crowd.
"We definitely got lucky there with the caution," Goede said later. "I felt fine on the sled but we definitely lost the front end and the biggest thing was that I couldn't see at all anymore, my goggles were completely iced over. Without that red flag we weren't going to win but that's kind of the way it goes I guess, and I'd rather be lucky than good."
The decision to build an FIII sled and make a run for the championship wasn't made until about six months ago, Goede said.
"We kind of made the decision this summer, but it took us a long time to get the sled and we threw it together in less than a month and got very little test time on it," Goede told us. "But the test time that we did get on it really helped and I feel that we had the fastest sled here this weekend. The way track conditions turned out you probably didn't need the fastest sled, you need one that would turn at the end, but I'm super happy to be sitting here with a world championship under my hat."
Talking about being passed by Stephenson with about seven laps to go, Goede said, "Honestly, I never knew he was outside of me. I couldn't see at all. I was wiping [his goggles] every straightaway I could but it turned to ice and I couldn't see anymore. I had basically no vision. I felt great on the sled, and obviously I lost front end and rear traction, but the biggest thing is I couldn't see anymore and I didn't feel safe going faster. So, we got really lucky with that red that came out there and we bolted a carbide on the right ski and I still had enough studs left to not spin taking off. Blaine just lit up the track and I never saw anybody those last three laps."
Dewald was a surprise second – mainly to himself. Being the offspring of oval enduro racing royalty, there are pretty high expectations for him going forward but he said just making the final was beyond his expectations.
"To be honest with you, we never thought we'd make it into the show with the amount of test time that we had," Dewald said. "This summer we said we were going to build an FIII sled, and we were going to ease into it. We were hoping we were going to get some test time but just like everybody else in Michigan, the weather hasn't played in our favor. So this weekend was our first time on the sled. So we came in pretty blind but we're pretty fortunate to be here. We qualified terrible – we've probably got to be the worst qualifying sled to be here [on the podium], probably ever."
Racing for the Mikey's Sleds and More team, Dewald said his final was somewhat uneventful. "We ran fourth for most of the race and were digging deep," Dewald said. "We were coming for third but unfortunately Tommy [Olson] got took out there, so we had a restart and that helped us. We got a good restart with two to go there and I ended up second following Matt – Matt did a great job."
Stephenson, meanwhile, was choked up with disappointed, after leading the way to the white flag but then loosing the grip on his potential fifth World Championship with the red flag and poor restart.
He told us that he knew he had very little traction left and planned to go easy on the throttle with the race was restarted, but he reacted strongly when he saw the green flag move, grabbed a handful of throttle by instinct and spun the track.
"It's just disheartening because our team puts in so much hard work and effort," he said, barely above a mumble.
Recapping the race, Stephenson said, "Based on what we saw on Friday night I figured [Goede] would come back to me. I was just kind of watching what he was doing in terms of lines and lappers and all of that stuff. Obviously Matt is super talented and he can plan this stuff out."
After recovering from the contact with Luke Olson, Stephenson said he started his hard push at about the halfway point.
"I was still behind at halfway, and when we got to there I could see Matt was fading, and I was like, '13 down, 12 to go, we've done this before.'" Stephenson said. He drove around Goede and pulled away, and then pondered how many laps were left.
"I was kind of lost but I was really happy to see the white the first time," Stephenson said. The red flag changed the mood.