Each year, Snow Goer magazine digs deep into the new technology being introduced for the following year with our Tech 101 article, featuring Q&A's with top engineers, designers and product planners explaining components or features that are new to the sport.
The engine is found in select RMK, SKS, Switchback, Rush and Indy models for 2019.
Polaris: Behind The Powerful Patriot
Since Polaris launched its 800 H.O. engine, it's not as if they were receiving a lot of complaints and needed to return to the drawing board as soon as possible. The engine became a favorite for many, and provided hours of endless powder-carving and trail-riding fun.
Polaris officials knew no matter how strong of a product they had just created, there was always room for improvement. Instead of sitting back on their successes, engineers pooled together to begin "blank sheet" designs for a new engine that would yet again rouse sledheads across the Snowbelt.
The extra effort culminated into the 850 Patriot engine, offered new for the 2018-2019 sledding season to the delight of many. Excited to share the many interesting details about how the new powerplant evolved through time and testing, Polaris officials Marty Sampson and Ricky Jaeger answered questions that we knew would be on our readers' minds. Sampson has been with Polaris for 20 years, previously as the development and evaluation manager for Polaris' snow engineering department, but now in a new role as snow product manager. Jaeger has been Polaris' snow engine powertrain platform manager the last 12 years. Among many others, both played pivotal roles in the development of the new 850 Patriot.
SNOW GOER: How long has the new 850 Patriot engine been in the works? Who was involved in its creation?
RICKY JAEGER: "We had the first concept engines on the snow back in 2014 before we launched the 800 H.O. – we had a couple of ideas and concept designs that we developed and put on the snow.
"As far as the people that were involved in the creation – I would say that's a pretty extensive list. It really starts with the voice of the customer, listening to what's important to them and what they're looking for. We take those ideas, designs and concepts and work with everyone from engineers to technicians, our purchasing suppliers and quality-manufacturing leadership teams – everyone has a say in what the final product ends up being."
MARTY SAMPSON: "In many cases, and this is one of them, there isn't a definite start time. There's been work leading up to this engine for years. There were prototypes of this engine being tested and developed before the H.O. was even launched. When we look back, what was the actual start time? It's hard to defi ne. In this case, we know we had versions of the engine out quite a while ago, helping us defi ne where we were going to take it."
SG: What were the initial motivating factors and goals? Did you have any deadlines?
SAMPSON: "The non-negotiables that we set when we started were industry-leading durability for two-strokes beyond what they have been in the past, and that comes in several flavors, but it's keeping the inertia low, while keeping the flickability of the chassis and responsiveness of the engine. Durability and responsiveness were also two driving factors as we talked about it internally – we didn't want to lose what our engines have been good at in the past.
"Along with those driving factors, of course, we also wanted good power and high levels of refinement where the engine feels really good."
JAEGER: "When we defined and sculpted the program to set up objectives we established what we call key product characteristics – we establish those very early and we'll track them throughout the life of the program to really evaluate our performance in the end, and see if we achieved those. We had specific targets around weight, inertia, noise, vibration, harsh-ness and feel, but all of those were secondary to the three main pillars. We set goals and through the process we played off those characteristics to make sure that we are always delivering on durability, acceleration and flickability."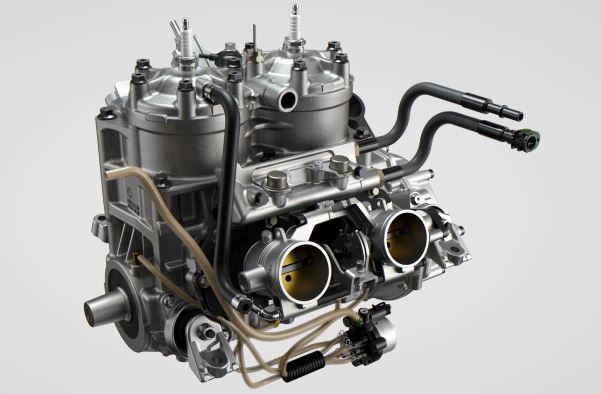 SG: Were there obstacles the team had to overcome to meet these goals? If so, how were you able to overcome them?
JAEGER: "That's always a part of development. We did try some things early on with different materials that ended up not working, and we ended up switching away from those exotic materials back to aluminum in several cases. We actually had to back down on some of our weight targets to be able to achieve our durability targets. The biggest material we tried was magnesium – and there are still some magnesium parts on this engine – but we looked into a couple other components and the use of different materials like that."
SG: In other recent designs Polaris utilized a lighter crank, but on the 850 there's a heavier one. Explain the advantages and disadvantages of using the design.
JAEGER: "Although this crank is heavier, we really kept the inertia low. It has a lot of the same design philosophy that we used in the 800 H.O. engine, but we made all the parts that needed to get bigger to handle a bigger displacement and make the engine more durable, bigger and heavier. On this engine we actually added an extra 3.5 pounds overall weight to the crank, but if you look at where we added that weight it was very close to the centerline of the crankshaft. It has a larger taper and bigger bearings throughout the crank, but we also focused on keeping the inertia low, which is any weight further away from the centerline. We did that to really make sure we were maintaining that acceleration and flickability, along with the improvement in durability. The way we de-signed the pins and actually used light-weight features really optimized the design for inertia."
SAMPSON: "Having low inertia in your driveline parts throughout the sled helps the vehicle stay extremely responsive and agile. As we're talking about inertia in the engine, clutches and driveline, it's important to keep the sled extremely agile, cornering well and responding to the rider's input. Weight isn't necessarily the only factor that drives that – the geometry of parts also has a big effect on inertia. The team did an awesome job of adding strength and durability where needed, while keeping a close eye on not adding any inertia to the driveline parts."
SG: A lot of effort was put into the cylinder and head design for cooling purposes – what was involved in that process and how did you end up where you did (with smaller pas-sages and higher flow)?
JAEGER: "With the previous engine we were a little con-strained by the footprint in the crankcase, how that engine developed and what we were able to do with some of the geometry. We learned a lot from that engine and did a lot of development, but we also knew that to take the durability and design to the next level, we needed to do a lot more from an engineering standpoint and use some engineering tools called CFD – Computational Fluid Dynamics – and a simulation of the coolant flow through the engine. We didn't only rely on the modeling, but we actually built different prototypes and refined the flow through the engine to really optimize the heat rejection out of the combustion chamber.
"The biggest thing you'll notice versus the 800 H.O. is it has gone from a two-piece head design to a single-piece with very uniform coolant passages to optimize flow and maximize heat rejection; it's not high-flow, but we're engineering the flow to a specific rate to maximize heat rejection.
"A couple other things in the cooling system you'll notice is we took the thermostat off the engine and integrated it into a new coolant bottle that is extremely efficient at self-bleeding, and that ensures there is no air entrapment or any hot spots within the engine cooling system."
SG: What is the piston mass of the 800 H.O. versus the 850 Patriot?
JAEGER: "The 850's piston is about 28 grams, or .06 pounds, heavier than the 800 H.O. Even though we thickened the dome and made a longer compression height with more con-tact area, we really focused on minimizing the weight of the piston, and that helps minimize the balance that you have to do in the crankshaft to keep it light and low from an inertia standpoint. It's all about dissipating the heat out of the piston to improve heat transfer and stabilize the piston to help the wrist pin bearing run cooler."
SG: The Patriot offers a new and faster ECU – how important is interpreting all the information provided when building a modern engine?
JAEGER: "The faster processor really helps with all the in-formation from the sensors. We use information from every sensor on the engine to make adjustments and refinements in the calibration of the run quality; everything from sensors that are on the engine – like the throttle body position sensor and the crank position sensor – to sensors we have monitoring manifold pressure, air temperature, the EGT in the pipe and silencer that was added to the engine and additional sensors that are industry-exclusive around fuel temperature and pres-sure. With all that additional input, the faster processor helps interpret and make decisions to really optimize calibration and run quality."
SAMPSON: "We monitor everything from the air and fuel coming in, to air and exhaust going out and we make changes based on those parameters. The higher capacity of the new ECU is important in that it can utilize all that information better and more quickly."
SG: At what PSI does the fuel system run and how does it compare to the 800 H.O.?
JAEGER: "The injection system is a derivative of the Cleanfire system on the 800 H.O., but there are unique differences – from subtle things like unique harness and routing, to more significant differences in the voltage used to drive the injector for the Patriot 850 to improve accuracy and control of the fuel line. All that leads back to a better running engine that is faster starting."
SG: What clutching or gearing changes were done to adapt for the extra horsepower?
SAMPSON: "Gearing and clutching are based on the individual vehicle and the segment that it's aimed at – the clutching is primarily based around the power output of the engine. The new Patriot 850 is running substantially heavier weights and quite a bit softer springs in some cases, depending on which sled and clutch package and where it's used – as much as 4 grams or more weight and quite a bit of change in springs."
SG: Now that it's all done, what makes you most proud about the finished product?
SAMPSON: "We were able to achieve generally everything we set out to do – we are truly bringing another level of durability, refinement and class-leading power. When it's all said and done, the package likely turned out better than anticipated because of the hard work, effort and focus that went into it. I would say we exceeded our internal expectations with it, and I know we're going to exceed our customers' expectations."
Every issue of Snow Goer magazine includes in-depth sled reports and comparisons, aftermarket gear and accessories reviews, riding destination articles, do-it-yourself repair information, snowmobile technology and more! Subscribe to Snow Goer now to receive issues delivered to your door 6 times per year for a low cost.