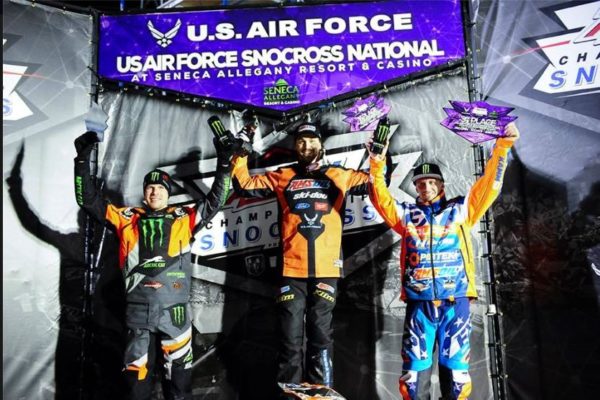 Generally in most motorsport racing, at mid-season your championship points leader is a guy or gal who has been winning a lot of races. In ISOC Amsoil Championship Snocross racing this year? That hasn't been the case – until Friday night.
Quebec racer Tim Tremblay was proudly displaying the red number plate going into the weekend, signifying his No. 1 spot in season points, and he had been a regular on the podium at every event. Yet, try as he might, he hadn't put his No. 11 Scheuring Speed Sport Ski-Doo across the finish line first this year in a final.
Friday night, he started the race in a strong third position, battled his way into second and was closing on the lead when that leader – Tremblay's teammate Lincoln Lemieux – had a violent one-sled crash on a straightaway, handing the lead, and the victory, to Tremblay on a tight and short race track in Salamanca, New York.
Racing continues Saturday in Salamanca – make sure to get your picks in by Saturday morning for the Snowmobile Racing Challenge fantasy game on snowgoer.com by clicking here. Or try the game based on oval racing in Alexandria, Minnesota, this weekend by clicking here.
A Quick Race
With four full race weekends down plus the X Games in the rear-view mirror and four race weekends to go, the second half of the season was kicked off on this first Friday in February in New York.
Four different drivers claimed heat race victories, with recent X Games gold medalist Petter Narsa plus his teammate Kody Kamm taking victories in the first round of heats, then Tucker Hibbert and Lincoln Lemieux winning in round two.
With the wind whipping and a healthy sized crowd gathered, the top snocross racers in the world gathered at just past 9 p.m. local time to settle the score on the short, bumpy track.
When the starting lights flashed green, Lemieux hooked up the hardest and grabbed the early on his black Scheuring Ski-Doo but there was immediately a red sled to his inside piloted by Kamm. Tremblay slotted into third on that first lap with Tucker Hibbert, Narsa, Adam Renheim and Elias Ishoel immediately behind.
Racing at a track that is the closest the Amsoil Championship Series will get to his St. Johnsbury, Vermont, hometown, Lemieux appeared to be on a mission and immediately started opening a gap up front. Four laps into the 22-lap final he already had a two-second lead on second-place Kamm, with Tremblay a second behind him.
Soon, though, Tremblay started to close the gap and on lap seven (by our count) he undercut Kamm in a corner to grab second place. Kamm immediately counter-attacked while Hibbert tightened the gap on both racers, making for an interesting three-sled scrum.
Tremblay knocked it down to a two-sled battle by getting on his horse and galloping away from that twosome, but Hibbert and Kamm were just starting their battle.
Lemieux, meanwhile, was weaving through lapped traffic and past crashed sleds and now had a five-second lead over his teammate.
Between laps 10 and 13, Hibbert made several charges to get past Kamm, including one great lap where the two racers swapped the position back-and-forth with great moves. On lap 14, though, Hibbert grabbed that spot for good and started to pull away from his rival.
Up front, things were looking like they could get interesting, as the veteran Tremblay was gradually cutting into the lead of his young teammate. The lead went from 2.8 seconds on one lap to 2 seconds on the next and to 1.7 on the following lap, but the race was winding down quickly.
Then, catastrophe occurred at the front. Racing on the front stretch by himself and not in immediate traffic, Lemieux suddenly nosed his Ski-Doo into the face of a jump in the rhythm section. The sled immediately buck its rider, sending him over the handlebars and then the sled came cartwheeling after him. The endo was ugly and violent and the tumbling sled may have caught Lemieux – it was hard to tell in the snowdust.
Linc's catastrophe was Tremblay's opportunity, however. He claimed the top spot and won going away, with Hibbert moving up to second, Kamm up to third, then the Scandinavian trio of Renheim, Ishoel and Narsa. Ross Martin, Andrew Carlson, Kyle Pallin and Ryan Springer rounded out the top 10.
Tim's Big Win
With heat races being so important in Amsoil Championship Series points and Tremblay without a win in qualifying on Friday night, his hold on the point lead was tenuous going into the final, but his first victory of the season was the perfect medicine to cure that ill.
"When you're the points leader you want to do good and you want to win races and be up there, and today I felt like I had the pace and I felt really good out there," said Tremblay, of Ste. Jeanne D'Arc, Quebec. "It's too bad for my teammate, we were going one and two and I was catching him but then he made a mistake and crashed hard. I hope he's OK, but I feel awesome winning that race."
Some folks are very happy with a second-place finish in snocross, but not Hibbert – his search for his 125th win will have to wait until Saturday night for the Pelikan Rapids, Minnesota, based Arctic Cat legend.
"We were real fast the first couple of laps but [Tremblay] was able to move through traffic a little quicker than me, and that was the difference in the race," Hibbert said. "I made a big mistake and drove under Kody and kind of messed up my sled, and that didn't make it very easy for me for the rest of the race. It was just too many mistakes on my part and that's what cost me the race."
"I got a great holeshot and ended up settling too early, I guess," said Kamm, a Polaris racer from Kenosha, Wisconsin. "I was in fourth for awhile and then Lincoln fell off and gave me the gift of third place."