This summer, we asked our dear friend and longtime Snow Goer partner David Wells to name his five favorite places to ride snowmobiles in the East. Rochester, New York-based Wells has been riding snowmobiles for more than 40 years, and writing for snowmobile magazines just about as long, so he certainly knows his way around trails, particularly east of the Mississippi. That made him both the perfect author for this story, and a tortured soul at the same time. How could a guy who loves to ride and rides pretty much everywhere name just five?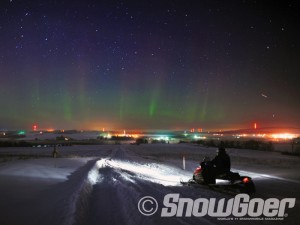 Well, he didn't – he named 10. The first five appeared in the November issue of Snow Goer (on newsstands now!), and a shortened version of that article is this week's Friday's Fast Five. But when he turned in the story, his featured included a sidebar called, "The Bonus Round: Five More Great Eastern Riding Areas That Just Missed The Cut." We didn't have room in the Snow Goer magazine for the sidebar, so his following five will be posted as next week's Friday's Fast Five.
So here, in advance of the Big East Powersports Show Oct. 5-7 in Syracuse, are Wells' best riding areas in the East, in no particular order. Each title below is a clickable link where you can go and learn more about each destination.
There are two things you need to know about The County: It's a long way from almost anywhere, and it's worth the trip. Aroostook County is the largest and most northerly county in the eastern U.S., so it has a long snow season. If there's snow anywhere in the East, it's up in the St. John River Valley at the northern end. Surrounded on three sides by Canada, The County is larger than four states, and within it is some of the most varied and enjoyable riding anywhere. Rail trails make it easy to cover ground quickly to access woods trails, rolling potato field trails, frozen lakes and serious boondocking in the mountains of the Allagash. Trails are generally well marked, well mapped and well maintained. ITS 81 is one of the most unusual trails anywhere. Heading north from near the village of Limestone, this major snowmobile route is situated right on the Canadian border. Big granite border markers divide the northbound traffic that is actually in New Brunswick from the southbound traffic that's in Maine. Just stay on the trail and you won't run afoul of the border guards. The County has more than its share of serious winter gatherings like Moose Stompers Weekend and the Log Driver's Cookout, plus lodging properties, dining establishments and dealer support are very solid. But what really sets this area apart is the friendly and most accommodating people who live and work there.
There is simply nowhere to ride like the Gaspé Peninsula, a large outcropping jutting out into the Atlantic Ocean on the south shore of the mighty St. Lawrence River. You can be riding at sea level, then an hour later be snowmobiling up high in rugged mountains that soar to 4,000 feet above the waterline. The scenery is awesome either way. There are actually many locations in the Gaspé where you can look one way and see an ocean-going freighter, then turn your head the other way to view beautiful snow-capped mountains, all from the seat of your sled. Trail 595 down through the peninsula's interior can be a religious experience for a serious snowmobiler. This 125-mile boondocking delight takes you through a micro-clime that is home to the only reindeer herd south of the 53rd parallel. There's only one outpost of civilization, the relais roughly halfway across this run. On the southeastern corner of the peninsula, Roche Perce (Perce Rock) is one of the most recognizable natural attractions in Canada. And throughout it all, the truly superior trails of Quebec provide outstanding riding. Of course, the great dining and enticing lodging that characterize Quebec makes visiting Gaspé very comfortable. If you are looking for a truly unforgettable vacation experience, the loop around the Gaspé will provide memories that will last a lifetime.
Located in the Outaouais (pronounced: oot-a-way) Region of western Quebec, the Haute (High) Gatineau is a high ground surrounding the upper Gatineau River well north of Ottawa covered with dense, mixed-wood forests and numerous lakes. More than 600 miles of superb trails present an enticing mix of open fields, woodlots, deep forests, frozen lakes with portages between them, unplowed back roads and rail trails. The Black Rollway is probably my favorite trail anywhere. Just be careful. They don't call that mile-and-a-half straight stretch "Piston Alley" for nothing. And there's a 90 degree right hander at the southern end. Along the way, the White Bears' teepee provides a peaceful, secluded deep woods rest stop overlooking beautiful Eagle River. This scenic and entertaining trail always reminds me why I love snowmobiling. A bit farther north in the immediately adjacent Laurentian region, Devil's Mountain (Montagne du Diable) is an incredible treat. This volcanic remnant towers thousands of feet above the flat landscape providing unbelievable scenic views in all directions. Trails up the mountain are wide and well maintained, and you can enjoy a trail break in the relais near the summit. Nearby Chute Windago (Windago Falls) provides another awesomely scenic trail break, as does Foyer Roger on the way down.
The Northern Corridor, Ontario
Stretching across the Arctic Ocean watershed from Cochrane to Hearst and then southwest to Hornepayne, the Northern Corridor is the backbone of an 1,100-mile integrated trail system maintained by nine local clubs. It's a truly awesome place to ride. Although this is Ontario, there's a distinct French influence at work. And that benefits the snowmobiling because riding is more like Quebec than the rest of Ontario. Big wide-open and satin-smooth trails are the norm. Cochrane is the eastern gateway to the Corridor. Excellent local riding includes the impressive scenic view from the top of Colquhoun Mountain in Greenwater Provincial Park just west of town. Or you can head east to the Quebec border. You also have multiple choices of routes to loop down south to Timmins for a nice day's fast cruise. Cochrane is also the jumping-off point for the
overnight trip north to Moosonee at the bottom of James Bay, which is actually the lower part of Hudson Bay. The northern two-thirds of this trip is serious boondocking — you'll likely want a guide. Hearst is the northern terminus of the famous Algoma Central Railroad's Snow Train and boasts hundreds of miles of equally impressive local riding including some enjoyable, laid back poking around in Fushimi Provincial Park to the west. Or make a day ride east to Cochrane or southwest to Hornepayne.
The Big Parks of Western New York
As a resident of western New York, this is my "backyard" pick. Letchworth and Allegany State Parks provide some of the best riding and scenery and serve as trail heads for explorations further afield in New York and Pennsylvania. Letchworth State Park encompasses the 17-mile Genesee River gorge, a rock-lined rift in the earth's crust that reaches depths up to 600 feet. Several waterfalls and one of the largest gravity dams in the East provide additional scenery for the "Grand Canyon of the East." An 11-mile section of the paved but unplowed-in-winter two-lane road along the north rim of the gorge is the main trail through the park's heart. Scenic views abound on pretty much the whole length. Picnic shelters with cooking grills and a winter sports cabin complete with a large fireplace and heated restrooms make the Park a great riding place for beginners, families or club events. Down on the Pennsylvania border, Allegany State Park offers more than 68,000 acres of rough, heavily wooded pre-glacial terrain that is honeycombed with about 100 miles of snowmobile trails. These routes range from wide, well groomed snowmobile super highways to narrow, intimate pathways
through the brush. Thunder Rocks is a unique group of giant erratic boulders that is easily accessible from the trail. The less travelled Lonkto Hollow loop is my personal favorite ride in the park.
HEY READERS: Do you have your own Top Five Snowmobile Riding Destinations, either in the East or anywhere? Feel free to share them in the Comments area below. But try to keep it to just five — if you're a longtime rider who has traveled to ride, you'll soon realize that limiting it to five is harder than you might thing.