The 1996 Eagle River World Championship was a historic moment in time for snowmobile oval racing. It included the first of three W.C. titles for Wahl Brothers Racing; it featured wins by legendary stars like Mike Houle, Dave DeVault and Brian Sturgeon; it marked the emergence of Chad Ramesh; and it was the second-to-last year when twin-tracked Formula I sled would run for the Championship title before being replaced by single-track Champ 440 sleds in 1998.
Here at the Snow Goer offices, we recently uncovered a couple of sleeves of color slide photography from that 1996 event (remember: we mainly shot black-and-white photos in those days for Snow Week magazine). It provided a good opportunity to flashback to that event here on SnowGoer.com. Below is the lead and then select text from the very long and detailed account of that event in Snow Week magazine, Volume 23, issue 12. Also, catch the somewhat related recap and photos of the 1996 Soo I-500 here.
WORLD CHAMPION: Dave Wahl Captures F-1 World Title
Mike Houle Dominates F-III; Dan DeVault Scores Four
Jan. 18-21, 1996, Eagle River, Wisconsin. Story by John T. Prusak; images by Paul Johnson
Some rising stars showed their might at the 1996 World Championship at Eagle River, but in the end the veterans were the ones holding the trophies and smiling for the cameras.
Dave Wahl captured his second World Championship in grand style, taking advantage of a miscue by his nephew and racing partner Terry Wahl and running away from second-place finisher and two-time defending champion Dale Loritz.
Dave and Durmont also threatened to take over the Formula I class with the chassis they build at Wahl Brothers Racing. Dave and Terry Wahl were the class of the field, and the machines they raced last year finished third and fifth in the hands of rookie sensation Jeremy Johnston and veteran Darcy Ewing, respectively.
Meanwhile, Mike Houle captured his fourth Formula III championship in six seasons aboard his Ski-Doo Formula III. Houle proved all weekend in heat races and in the special Friday Night Thunder program that he had the fastest sled on the track. He then followed through on Sunday by setting a blistering pace and winning with ease, although second-place Normand Pilote never let Houle out of his sight.
The other star of the weekend was Dan DeVault of Cottage Grove, Wisconsin. With the help of his brother, racing partner and set-up man Ed DeVault, Dan proved several times that his ZR 440 stock machine was unbeatable. He used that machine to capture Stock D and C and then came back to beat the best in the sport in Pro Stock.
That all followed Dan DeVault's third straight title in Mod I, a class he captured easily on Saturday morning.
Chad Ramesh proved that he has arrived in the Stock classes. The racer from Land O'Lakes, Wisconsin, took the Stock A and B classes on a pair of Ski-Doos. And Dale Loritz got one big win, claiming Champ 440, although we're sure he would trade it in today for another Formula I title.
T/S Racing's Brian Sturgeon had an off weekend, claiming only one title, which came in Mod II. Sturgeon has set such a high standard through his multi-class wins in recent years that a single first place seems paltry, although most racers would be more than pleased with any victory at the Derby.
The crowd at the 33rd running of the World Championship Derby was held down due to a powerful blizzard that started out as rain and iced everything in its sight, including all of the roads throughout the area. Despite the weather, attendance reached 20,000, according to track owner Chuck Decker, as fans of oval racing risked it all to venture to Eagle River to see some of the best racing in the world.
Those who made it got a treat. By Saturday and Sunday, the storm had already blown through and the weather was quite pleasant. Plus, track conditions were the best they have been in years, making for fast racing and multiple lines for racers to choose from. And they were going for it, as a total purse approaching $125,000 was on the line.
SELECT HIGHLIGHTS:
Loritz On The Pole
Early in the weekend, it looked like a former champion would win the Eagle River World Championship in 1996, the only question was which one.
Dale Loritz, the 1994 and 1995 champion, set the fast time in qualifying, running two laps in a time of 36.091. That was about a half-second slower than the track record time, but a half-second faster than the second fastest qualifier, Terry Wahl. He was followed in order by veteran Tony Ave, 1989 champ Bruce Vessair, 1990 winner Dave Wahl, 1987 champ Chuck Decker, 1980, 1982 and 1986 winner Jacques Villeneuve and 1993 winner Al Fenhaus, with Mark Mondus and Jeremy Johnston rounding out the top 10….
In The Final
On green Kris Vandolder powered to the front along with Bruce Vessair and Jeremy Johnston as the sleds flew into turn one and got out of turn two cleanly. Vandolder held the advantage down the backstretch but young Johnston wasn't going to disappear, running second. At the stripe to complete lap one, it was Vandolder, then Johnston, Terry Wahl, Vessair and Jeff Ludwig. Dave Wahl and Dale Loritz languished deep in the pack.
Vandolder would lead for one more lap until Terry Wahl moved to the front. Ludwig was also on the charge, moving up to third on lap three, with Loritz fifth behind Johnston.
A lap later, Loritz had two more victims and Dave Wahl made his first appearance in the top five. With 20 percent of the race down, on lap five, it was Terry Wahl in first, then a gap back to Loritz, Dave Wahl, Vandolder, Ludwig, Johnston, Vessair, Mark Mondus, Scott Mondus, Jacques Villeneuve, Darcy Ewing and Herm Gehrke.
The Terry Wahl gap up front continued to build, but so did the gap between Loritz, Dave Wahl and everybody else. Dave Wahl moved past Loritz on lap seven and set out after his nephew…
The racers up front were taking noticeably different lines. The Wahls were running low and hard, pitching the sleds into the corners more, while Loritz ran higher and smooth….
On lap 18 of the 25 lap final, with Dave Wahl catching up slightly, Terry Wahl drove hard into turn three and was forced high by some lapped racers. Once in the deep snowdust and ice shavings, his sled went straight while the track curved and the leader got stuffed into some haybales at the top of turn four in an ugly dismount. Terry was physically okay but emotionally beat up after letting such an error cost him a chance to win.
That opened the door for Dave Wahl, who had now had a big lead on Loritz, who had an even bigger gap on Johnston. Meanwhile deep in the pack Ewing was starting to pick off several tiring drivers….
Dave Wahl had lapped everybody except for Loritz and Johnston. Dave raised his arm in victory as he took the checkered, and then drove to turn four to make sure his nephew was not hut… Loritz finished an easy second followed by the surprising Johnston. Vessair was the fastest of the one-lap-down crowd…
Post Race Quotes
"Twenty-five laps is a long race for an old man like me," Wahl, 36, said immediately after the race. "I'll get my breath back in an hour or two."
"I'm not sure if Terry got into the snow or lapped traffic. He probably would have left us in the dust if I would have caught up to him," Dave Wahl said. "Our machines are pretty even, and I was catching up to him." But Terry probably would have had more endurance at the end, Dave Wahl said.
"It's his turn in a couple of years," Dave said with a laugh.
(CURRENT NOTE: Dave Wahl had a nice premonition on that Sunday. Two years later, after Dave won in 1997, Terry Wahl won his first and only World Championship title in 199.)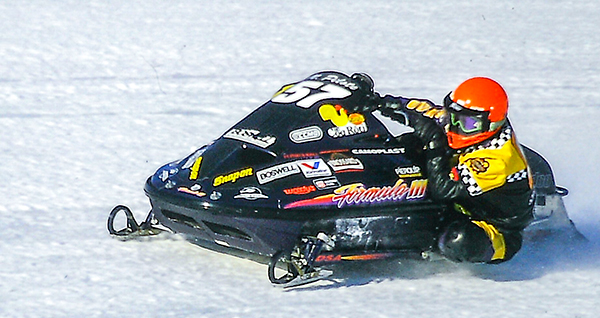 EVENT RESULTS:
Formula I (world championship class): 1. Dave Wahl; 2. Dale Loritz; 3. Jeremy Johnston; 4. Bruce Vessair; 5. Darcy Ewing; 6. Jeff Ludwig; 7. Mark Mondus; 8. Jacques Villeneuve; 9. J. Scott Mondus; 10. Herman Gehrke; 11. Terry Wahl; 12. Kris Vandolder
Formula III: 1. Mike Houle; 2. Normand Pilote; 3. Jim Herzig
Champ 440: 1. Dale Loritz; 2. Brian Sturgeon; 3. Normand Pilote
Pro Stock: 1. Dan DeVault; 2. Mike Houle; 3. Ed DeVault
Sprint: 1. Darcy Ewing; 2. Don Severson; 3. Jim Herzig
Mod I: 1. Dan DeVault; 2. Ed DeVault; 3. Jim Herzig
Mod II: 1. Brian Sturgeon; 2. Glen Nohl; 3. Dan Peterson
Stock A: 1. Chad Ramesh; 2. Brian Hissom; 3. Brian Schulz
Stock B: 1. Chad Ramesh; 2. Brian Hissom; 3. Ed DeVault
Stock C: 1. Dan DeVault; 2. Ed DeVault; 3. Claude Racine
Stock D: 1. Dan DeVault; 2. Ed DeVault; 3. Claude Racine
Stock E: 1. Dan Giannotti; 2. Paul Niznik; 3. Tom Newburg