Promising more nimble off-trail prowess, a smoother ride for those who stick to trails, an intriguing new option for entry-level or transition riders plus a new big-power option throughout much of its lineup, Polaris unveiled its 2019 snowmobile lineup on March 5.
More headline grabbing is the mega-powerful new Patriot 850 engine that Polaris is claiming will be the most powerful, quickest-reacting two-stroke in the sport: yes, they say it tops Ski-Doo's 850 E-TEC. The engine will be available for riders of all sorts – buyers of Indy, Rush, Switchback, Switchback Assault, SKS or Pro-RMK will get the 850-option, but only if they order one in the brand's exclusive spring Snow Check program. It won't be available for "in-season" models sold next fall and winter.
Polaris is also unveiling a new line of trail machines called the Indy 129 in the Axys chassis that offers a new, smooth-riding alternative to the more radical Rush. Also new in the Indy world is the Indy EVO, a full-sized sled with downsized ergonomics, ride height and engine performance to suit younger or newer riders.
Meanwhile, mountain riders can get a new Pro-RMK with a narrower and lighter front end, revised rear end and an option of the aforementioned 850 twin. (To see the new, 2019 snowmobiles from Arctic Cat, Ski-Doo and Yamaha, click on the brand names.)
PATRIOT 850 ENGINE
There have long been rumors that Polaris powerplant engineers were working on something that broke the magical 800cc two-stroke barrier, but the company sat idle in 2017 when Ski-Doo launched its 850 E-TEC engine and Yamaha and Cat unveiled the 200-plus horsepower turbocharged four-stroke in the Sidewinder/ZR 9000 models.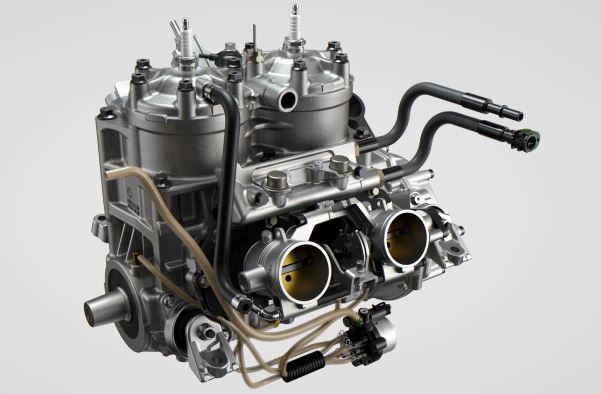 But the wait is now over for Polaris horsepower junkies. The new Patriot 850 engine shares the same 85mm bore as the 800 H.O. found in other Axys chassis machines, but the new, high-tech 840cc twin is vastly different, the result of what designers call a "clean-sheet-of-paper" process that freed them to come up with the best formula for the stated goals of the project – which included class-leading durability, acceleration and flickability/responsiveness.
It starts on the bottom end, where Polaris went with a beefy but efficient crank utilizing larger bearings and pins, higher grade materials and other durability-focused upgrades that result in a piece that is 3 pounds heavier than the crank assembly found in the 800 H.O., but matches the low inertia level of the previous design, Polaris says.
The cylinders feature taller pistons with thicker domes and single piston rings matched with higher capacity bearings and larger wrist pins – again with durability and performance in mind. A single-piece cylinder head features enhanced cooling through high-flow, narrow passages while the new three-stage variable exhaust system is a simplified design that includes magnesium parts and promises better performance throughout the powerband, designers claim. It ties into a faster-processing ECU that gets information from more sources, including a new contactless throttle position sensor, additional sensors in the exhaust, new fuel pressure and temperature sensors and more.
Also tied into the system are new 50mm throttle bodies with a permanent-set idle position; new VForce carbon fiber reeds with enhanced sealing; the power-boosting regulator that feeds a stronger and steadier flow of electricity at a lower RPM; and a unique, specially designed engine mounting system.
Tested last week at altitude, the 850 was strong and forceful. It sounded like the now-familiar 800 H.O., but it had a stronger pull. Some models featuring the pre-production engines we tested had a bit of a gurgle at about 5900 RPM, but designers said they had identified the problem and would have it solved by the end of this week. No horsepower or torque numbers were released, but Polaris officials said it will be the most powerful engine that the brand has ever put in a snowmobile, with a claimed 9 percent better power-to-weight ratio than anything in its class, and 13 percent lower inertia. They are also backing up the durability claims with a four-year warranty.
"From an acceleration perspective, we wanted trail guys to be able to experience really ferocious acceleration that you can get with this class of machine; but also for the deep snow guys to get instantaneous lift, because that's what matters in the mountains is that quickness and responsiveness," said Chris Wolf, the president of snowmobiles at Polaris. "Low inertia gives us that responsiveness and fun factor on the trail and that flickability and helps enable that power-to-weight ratio."
NEW INDY 129 MODELS
For 2019, the Indy name further evolves to include four new, high-end trail burners that will rival their sister Rush machines, thanks to a new rear suspension, new engine options, extruded aluminum running boards and varied tracks options plus a move to the more modern Axys chassis.
We're talking about the Indy XC 129 models available with a 600, 800 or 850-class engine – plus the 600 Indy SP 129 – that Polaris officials say will combine class-leading acceleration and great handling with better stutter bump performance than is available from uncoupled Rush models.
Like previous Indy models, the new XC and SP 129 models will feature a full-length tunnel with a traditional rear suspension with contained shocks, but will be wrapped by a 129-inch track. The new rear suspension – called the Pro-CC 129 – is a coupled design that Polaris officials say benefits from lessons learned from the Rush models' Pro-XC, the Polaris 600R race machine and even last year's Titan models.
"It will still be plush but really resistant to bottoming, and that allows us to set the spring for a softer ride. For people who really care about chatter-bump ride, this thing is phenomenal, but it hasn't lost the fun factor that we give you with the Pro-XC, so it's a really nice sweet spot."
The Indy XC models will come with Walker Evans Compression Adjustable Piggyback shocks and a choice between a 1.25-inch RipSaw II, 1.35-inch Cobra or a new Camso Storm track with varying lug height maxing out at 1.5 inches; the 600 Indy SP will get standard IFPs and a 1.25-inch RipSaw II.
With the move to the Axys chassis, the Indy 129 models get improved ergonomics, an upgraded front suspension, new switches, improved fit and finish, better running boards with big snow evacuation holes and a more durable rear bumper, plus this new setup will allow trail riders to easily add a 2-Up seat.
During our test rides, we really liked the new rear suspension in stutter bumps – it's a big step up from the Rush models in this situation, though in huge bump bashing the Rush or Switchback XCR seemed to reign supreme.
Polaris unveiled another new 2019 Indy model about six weeks ago – the EVO. This downsized version of a 550 Indy featured the Pro-Ride chassis with a lower seat, lower and narrower handlebar and a smaller throttle, with the cockpit moved forward slightly due to a smaller fuel tank. The ride height was also brought down, with just 4.1 inches of travel from the otherwise traditional-looking Pro-Ride front suspension, though the ski stance sits at 39.5 inches.
EVO machines come from the factory with an ECU-limited top speed of 50 mph and are aimed at smaller or new-to-sport riders. The pull start base version of the machine will carry a retail price of $5,299, while an electric start version with a better seat has an MSRP of $5,699. Click here to learn more about the EVO.
NARROWER, REVISED RMKS WITH 850 OPTION
Promising riders even more maneuverability from their already impressively agile Pro-RMK snowmobiles, Polaris designers went to work on both ends of their powder-churning mountain ma-chines for 2019.
Up front, the sleds get the new, narrower Pro-RMK React ski suspension. Its most notable feature is the narrowed stance – adjustable between 36 and 38 inches compared to the previously widest-in-class 39- to 41-inch adjustable front end. Polaris went with forged aluminum A-arms and spindles with its new geometry, and matched them with new SLS Shock Springs – widely spaced steel springs that are lighter than titanium and three pounds lighter than the previous springs.
In back, Polaris has a new, lightweight aluminum front track shock cross shaft as well as one of those SLS springs on the front arm. Also, Polaris has a new lightweight hyfax that strips weight and new PowderTrac XT running boards to spring-order models.
Of course, this is on top of the 850 engine option – and we know mountain riders crave big power for altitude. The beefy engine weighs more than the 800 H.O., but those pounds are offset by weight-savings in the hyfax, springs and other suspension components, plus more power. The spec weight on a 2019 850 Pro-RMK 163 is listed at 420 pounds.
THROUGH THE LINEUP
Let's take a look at what all of this means by going through the 2019 Polaris lineup.
In the Rush, Switchback and Switchback Assault lines, there will be a new 850 option for Snow Check buyers, but otherwise the 600- and 800-class Pro-S and XCR models return unchanged, though with more spring options. The Rush Pro-X models have been dropped, as buyers previously attracted to them pretty much all moved over to the XCRs. Switchback Adventure models return with new colors and graphics only.
The Indy lineup changes the most, with the new EVO and 129 XC and SP models grabbing the most attention. The 550 and 600 Indy models return as price-point options, as do the 550 Indy Adventures. Utility-focused Voyageur and Widetrak models. The Titan models gained a bunch of fans in their freshman year and return unchanged, though a Titan XC model can be spring-ordered for 2019 with more colorful side panels and more options.
The Pro-RMK models in the 600, 800 and 850 class get all of the aforementioned suspension changes, with track lengths varying between 155 and 174 inches. The base 600 RMK 144 and 800 RMK Assault 155 returned unchanged other than colors and graphics, as do all SKS models – though, again, the SKS gets the 850 option.
Editor's Note: Every issue of Snow Goer magazine includes in-depth sled reports and comparisons, aftermarket gear and accessories reviews, riding destination articles, do-it-yourself repair information, snowmobile technology and more! Subscribe to Snow Goer now to receive issues delivered to your door 7 times per year for a low cost.