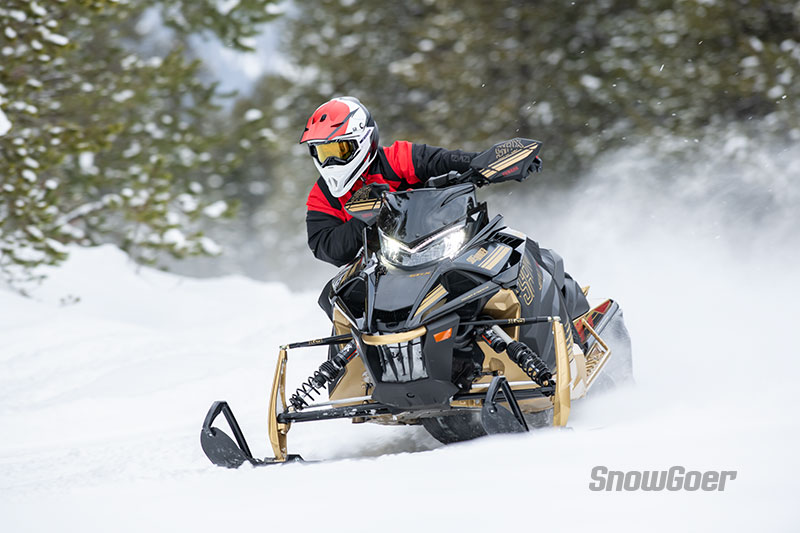 Sometimes it's easy to discount a year when a manufacturer's primary updates are "bold, new graphics." Go ahead with your snarky "BNG" comments if you wish… until you check out the new look of the Sidewinder SRX LE from Yamaha.
For 2024, Yamaha is bringing back an almost identical lineup to what it offered in model year 2023, including 10 four-strokes (seven turbocharged Sidewinders, one SRViper and two youth sleds) and 8 two-strokes (three Mountain Maxes, three Transports and two SXVenoms). So, yeah, if you're looking for major innovation from Team Blue for 2024, this isn't that year.
But the stunningly good looks of the SRX still caused a stir at the recently completed Rode Reports testing event. "Now that is one sexy snowmobile," one member of our crew said, and others nodded in agreement.
The obvious question about Yamaha's future in snowmobiling traces back to Arctic Cat, which now builds all of Yamaha's snowmobiles. For 2024 Cat unveiled a new Catalyst chassis that is causing a huge buzz in the snowmobile market. Is it coming to Yamaha? Yamaha officials were quick to douse those flames for the short-term.
"At this time all we will comment is we are excited for our supply partners to have this new chassis, but it is primarily a two-stroke vehicle right now, and at this time you will not see it in our 2024 presentation," said Jaret Smith, manager of Yamaha's North American snowmobile division. "We are happy for our partners to have a new chassis. And we won't comment on what the future brings."
So, while you dream about the long-term prospects, the short-term future for Yamaha customers includes a known returning lineup with new looks.
SRX Leads Trail Sidewinder Lineup
Seven turbocharged Sidewinder models return for 2024, but none of them are as spellbinding at the new SRX LE in the throwback "1980 SRX Nebura gold and black" color package.
With a gold tunnel and horizontal gold lines across the bottom of a dramatic stark black hood, this is a throwback paint scheme we can get excited about. Sure, the original 1980 model had a gold belly pan that is unmatched in the 2024 model. But the broad gold spindles and gold ski loops bring the color charmingly to the front of the sled.
The Sidewinder SRX functions very well, too. Like all Sidewinders, it's found in the SRV chassis, featuring a long seat, wide running boards and roomy ergonomics. The 180-horsepower, turbocharged 998cc Yamaha three-cylinder engine provides ferocious power.
Importantly, the 2024 Sidewinder SRX is one of the Yamaha models with electric power steering (EPS), which provides speed-based assistance based on forces that come down from the handlebar as well as up from the skis. That makes this otherwise heavy sled incredibly easy to drive through the woods. It also allowed Yamaha to put more aggressive runners and add an extra shim beneath the Stryke skis' mounting rubbers to give excellent front end handling. The SRX comes with on-the-fly Fox iQS shock absorbers, a lowered ride height and a 15- by 137-inch by 1-inch RipSaw track.
There are two other EPS-equipped single-passenger, 137-inch Sidewinders to choose from.
The Sidewinder L-TX LE EPS rides on the same chassis and suspension system as the SRX, but with a slightly taller ride height. The Fox QS3 shocks get a non-stiction Kashima coating for 2024, which is technically a spec change over what was promised in 2023, but the 2023 LE models actually did have the coating when they were built. Its RipSaw II track gets 1.25-inch lugs for better rear grip. Again, the power steering is the key to the whole package.
Extra cruising comfort is offered by the Sidewinder L-TX GT EPS. It's a lot like the L-TX LE except with dual-rate springs, subtler suspension settings and a tall window.
The other single-passenger 137-inch Sidewinder is an L-TX SE. It is the most affordable version, with base-level shocks, no power steering or heated seat and limited luggage, but all of the power of the big 998cc turbocharged triple.
The Sidewinder S-TX GT EPS returns as the full-sized 2-Up touring bus that runs on a 15- by 146- by 1.25-inch RipSaw track. It's loaded with luxury features – including heated seats and heated grips for both the driver and the passenger, copious amounts of wind protection, dual heated visor outlets, expanded storage in lockable storage bags and more. The inclusion of EPS is key – a 2-up sled that chases trail grooves can be torture for the passenger.
The X-TX Crossover Lineup
Both of Yamaha's 146-inch Sidewinder on/off-trail crossover models also return.
The Sidewinder X-TX LE iQS moves from a darker, multi-toned blue to a bright Team Yamaha Blue with splashes of black and white for 2024. It's the more trail-focused on the two X-TX crossovers, with a stable 42-inch stance between its Stryke skis. In back is an uncoupled skid frame wrapped by a 146-inch Cobra track sporting 1.6-inch lugs. Fox iQS shocks are found front and rear, with an HPG center shock.
The Sidewinder X-TX SE is more focused of off-trail fun. Its front suspension had narrowed mountain spindles that lay at a different angle than the X-TX LE, and the stance between the Yamaha Mountain skis is 40 inches. In back, the uncoupled skid is encased within a 146-inch Challenger track with taller 2-inch lugs. A taller, more forward-mounted Mountain handlebar with a hoop greets this rider.
The Return Of Viper Power
The machine that started the full-sized Arctic Cat/Yamaha snowmobile partnership in model year 2014 is back for its 11th year, combining the Arctic Cat-built ProCross chassis (called SRV chassis when on a Yamaha) with the Yamaha-built naturally aspirated 1049cc triple four-stroke.
The one SRViper model for 2024 is once again an L-TX GT. Like the Sidewinder model with a similar name, it benefits from dual-rate springs, a heated seat, a heated visor outlet and a 20-inch tunnel bag. You won't find EPS on this sled, however. The Viper's engine creates competitive mid-displacement power similar to a 600-class two-stroke.
Deep Snow: Choose Your Weapon
The same three full-sized Mountain Max sleds return for 2024 unchanged except for colors and graphics. Each is powered by a 794cc semi-direct-injected two-stroke from Arctic Cat, giving Yamaha fans a more nimble deep snow sled than previous four-stroke efforts.
The standard Mountain Max 800 LE 154 and 165 models share the single-beam rear suspension that first debuted in Arctic Cat mountain sleds as the Alpha One skid. It cycles 15 inches of travel through externally adjustable Fox QSL shocks, with a "lockout" mode available on the rear arm to dramatically stiffen the tail of the machine to keep the skis down during big climbs. The 154-inch PowerClaw shoe spins 2.6-inch lugs while the 165-inch PowerClaw has larger 3-inch lugs. Up front, the exclusive Yamaha MTN skis are set at a 36-inch stance. These models both come with the convenience of electric start.
Riders looking for a less weighty option can opt for the Mountain Max 800 LE 154 SL – with "SL" being Yamaha code for "super-light." Aside from dropping about 20 pounds by not having electric start and a battery, the SL also drops mass thanks to use of a shorter, tunnel-mounted heat exchanger, a shorter-in-length seat and a smaller-capacity fuel tank. Otherwise the SL shares the same engine, clutches, track, suspension, etc., as the Mountain Max 800 154.
Mid-Sized Venoms And Transporters
The one Yamaha sled with a notable parts/spec update from Yamaha for 2024 is the SXVenom MTN in the 7/8th-size chassis.
The mini mountain slayer gets a new lightweight mountain seat and a smaller fuel tank (10.4 gallons vs. 11.7 gallons last year) for 2024. It still spins a 15- by 146- by 2-inch track.
All sleds on the 7/8th-size chassis are powered by a surprisingly spry 397cc, single-cylinder, two-stroke engine with variable exhaust, fuel injection and electric start.
The base SXVenom (without the MTN suffix) for flatlanders uses a 14- by 121- by 1-inch Hacksaw track and skis set at a 38-inch stance vs. 36 on the MTN version. The other two sleds in this smaller chassis are the Transporter Lite and Transporter Lite 2-Up.
The base Transport Lite has single-passenger seat, a rear rack and has a 146-inch utility suspension with flip-up rails, plus a 38-inch stance. Transporter Lite 2-Up adds a two-passenger seat. It's skis are set at a 40-inch stance, with an anti-sway bar providing extra stability.
Meanwhile, the Transporter 800 is a full-sized sled powered the 794cc twin found in the Mountain Max sleds. Its primary focus is serving the utility market, and it includes a large rear rack, a rear hitch, broad skis and a 153-inch Power Claw track spinning 2.25-inch lugs.
Editor's Note: Every Snow Goer issue includes in-depth sled reports and comparisons, aftermarket gear and accessories reviews, riding destination articles, do-it-yourself repair information, snowmobile technology and more. Subscribe to Snow Goer now to receive issues delivered to your door or directly to your computer for a low cost.