Yesterday I took advantage of a cool opportunity to have a custom set of snowmobile goggles built specifically for me. Oakley, an iconic eyewear brand based in California, offered a sample pair of its new winter sports eyewear technology. The only catch was that I had to go to the company's retail store in Mall of America so I could learn about the process and technology.
I made the 25-minute freeway trek from the Snow Goer office to the MOA in Bloomington, Minnesota. Once there I met up with store manager Dominic Tortorella.
There were six different goggle frames for me to choose from that utilized Oakley's new Prizm lenses that debuted in October. I chose the Oakley Prizm Airbrake goggle because it has more of a traditional, motocross-style appearance than some of the company's other goggles that seem to be tilted toward skiers and snowboarders.
One especially slick feature of the Airbrake is its Switchlock lens change system. Just a flip of the sturdy-but-discreet lever on the left edge of the frame releases the lens so it can be carefully lifted out, and then a new one set in the frame and locked in place by flipping the lever again – a process that takes about 20 seconds. This means no more fumbling with a lens to push it into a narrow groove around the perimeter of the frame while the fingers freeze. I've typically carried a separate pair of goggles just to avoid that hassle when day turns to night, but now I foresee myself pulling over to the side of the trail and popping in a clear lens in record time.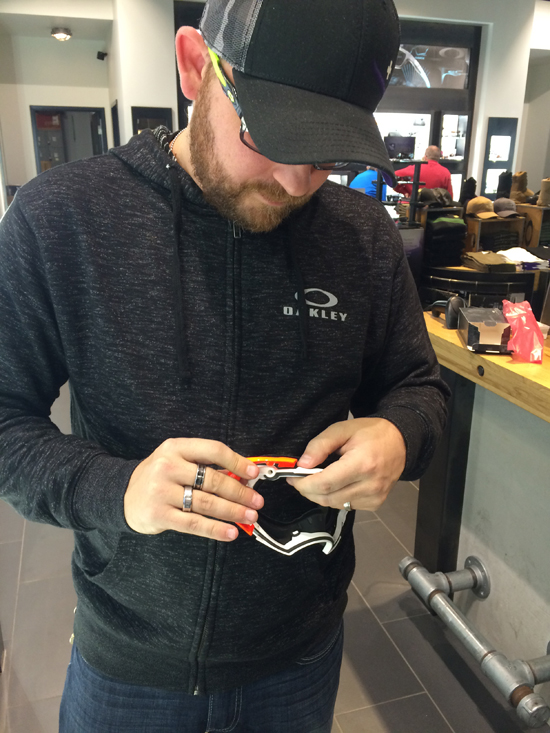 The customization feature let me choose my frame shape (I went with the Airbrake), frame color (white), frame vents (matte black), strap outriggers (neon fire orange) and strap (black with white icon). Each Airbrake Snow goggle kit includes two Prizm lenses – I chose Jade because Dominic said it covers the widest range of light conditions, and clear for nighttime use – and a sturdy, soft-sided case. When it was all said and done the set-up came to a $240 retail price.
Goggle shoppers can take advantage of customization through the company's website, too. In fact, I built a set of goggles on oakley.com  last month to learn more about the process, and from what I can tell the eyewear could arrive in as few as two days – with an extra charge.
I look forward to wearing this new set of goggles this winter and reporting right here about how they work. And check back here for regular updates this season about my trips, product tests, installations and our demo sleds.