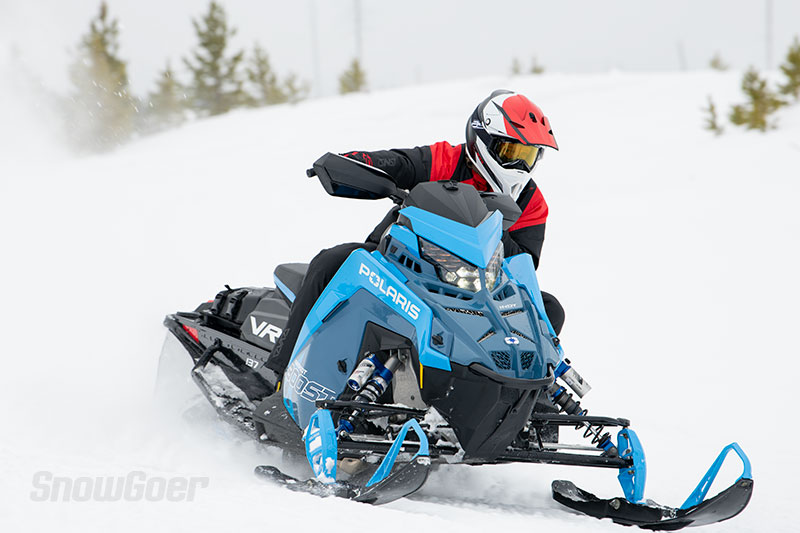 Polaris unveiled a 2024 snowmobile lineup today that is both deep and wide, yet a little more focused for next winter.
The biggest product news is in the mountain segment, where RMK riders can get a new tall-lugged track, an updated brake, better ice scratchers and other upgrades.
Flatland and crossover riders also benefit from a slew of running changes aimed at making Indy and Switchback models easier on the ears, eyes and fingers. There are also software updates to the 7S display.
Overall, though, Polaris officials say they're using model year '24 to ensure on-time delivery of pre-ordered sleds by clearing internal roadblocks, cleaning up the supply chain, changing build schedules and streamlining the model mix. And they're backing it up with a promise, as explained by Nels Eide, the mountain snowmobile product manager at Polaris.
"We're putting our money where our mouth is," Eide said. "So, for model year 24, we will have a 'ship guarantee' on Snow Check vehicles. What that is, the vehicle will have a guarantee-ship from our Roseau facility – to be clear, not delivery at the dealership, setup-ready for the customer to pick up – but shipment from our facility by November 30, or [the customer will get] $1,500 off your Snow Check."
(See recently released details on 2024 snowmobiles from Arctic Cat, Ski-Doo and Lynx by clicking on each brand.)
Shared Updates
There are a handful of notable updates that are shared by a broad cross-section of Polaris sleds in the Matryx chassis – from 129-inch trail sleds all the way up to 165-inch mountain climbers – so we'll cover them right up front. Some were "running changes" that even made their way onto select 2023 models.
Continued updates to the 7S display, including removal of some bugs and Bluetooth connection problems, while also providing the rider with easier-to-read on-screen information.
An anti-fog coating is being added to headlights to improve nighttime visibility.
Lighter durometer grommets are used on body panels' quarter-turn fasteners, making them easier to turn.
A new crimping method is used on Polaris exhaust pipe shell to reduce under-hood rattling.
A new oil cap will prevent seepage from the oil tank.
Taken on their own, each update is minor, but they are all a part of the continuous improvement program.
Trail Focus
Other than those changes listed above, the Polaris trail sled lineup returns mostly unchanged, although with fewer choices for buyer to make.
For instance, all Polaris trail and crossover sleds will come with electric start as standard equipment to diminish the number of models (or SKUs, in manufacturing talk) that the company must schedule and build. Also, Polaris eliminated the 129-inch track-length version of its Indy VR1 model, citing the overwhelming popularity of 137-inch version.
The Indy VR1 returns as Polaris' most full-featured, spring-order-only machine for high-mile riders, with standard 7S display and Walker Evans Velocity shocks. It can get its power from the buyer's choice of a 650 Patriot, 850 Patriot or Patriot Boost powerplant.
The Indy XCR is the more aggressive sled, with chassis, suspension and brake reinforcements and upgrades to allow it to take the abuse of the most assertive riders. It uses large-bore Walker Evans Velocity highs and can be ordered in either 128- or 136-inch track lengths. Engine choices are 650- or 850-Patriot two-stroke twins, and its available with either the Message Center or 7S gauge.
Indy XC models return as key in-season machines with LED lighting and the choice track length (129 or 137) and gauges (Message Center or 7S). When powered by a two-stroke engine (650- or 850-class), it comes with Fox QS3 shocks. Polaris TS shocks come on four-stroke ProStar S4-powered XC models.
The Indy Adventure high-mile cruiser can be powered by a 650 Patriot two-stroke or a ProStar S4 four-stroke engine. Its shock packages mirror those of the Indy SP – Fox QS3 on the two-stroke and Polaris TS shocks on the four-stroke. The Adventure comes standard with a tall windshield, 7S display, mirrors and a removable 2-up seat.
The Indy SP is Polaris' price-conscience Matryx sled with IFP shocks and the 650 Patriot. The Indy Sport and Indy EVO return in the two-generations-old Pro-Ride chassis – each powered by the Liberty 550 fan-cooled twin. The Sport uses the engine's full power and suspension travel, while the EVO is lowered and limited to appeal to the "tweener" or new-to-sport crowd.
Crossover Switchbacks
The Switchback crossovers in the Matryx chassis get the aforementioned updates to the gauge, headlight, quarter-turn fasteners, exhaust pipe and oil cap. Beyond that, they're unchanged except for colors and graphics for '24.
The top of the line is the Switchback Assault 146 spring-order model, available with a 650, 850 or turbocharged Patriot Boost engine. Walker Evans Velocity shocks, the 7S gauge and the NightBlade headlights all come as standard equipment. It keeps its 42-inch stance between trail skis.
The Switchback XC is again the top in-season model, powered by a 650- or 850- two-stroke twin. Three-position Fox QS3 shocks are found on all four corners of the suspensions. Following the trend see in the Indy lineup, the Switchback SP is the value crossover in the liquid-cooled lineup, with IFP shocks, LED lighting and with the 650 as the only engine option. A fan-cooled Switchback Sport is also available on the Pro-Ride chassis.
Changes In RMK Land
The biggest changes to the 2024 Polaris snowmobile lineup occur on the longest sleds.
For next winter, Polaris has introduced a Series 9 325 track. With its 3.25-inch-tall lugs set at a 3.5-inch pitch, Polaris says this new track will provided an unmatched level of forward drive with less trenching that its previous 3-inch track design.
The new track can be ordered on Pro RMK and RMK Khaos Slash models with lengths of 155 and 165 inches and power from either the naturally aspirated 850, 9R big bore or the turbocharged Patriot Boost engine.
Polaris officials stressed that this new Series 9 325 track is specifically designed for deep-snow riding conditions and is not intended to be a trail burner. In fact, the track should be kept at speeds of less than 50 miles per hour on trails, they said. If you exceed 50 mph you'll get a warning through the gauge telling you that you're exceeding this limit.
The 3-inch lugged track has been eliminated from the Polaris lineup, as have models with the 163-inch track length, but there are still many mountain sleds to choose from. First one must decide between a precise and predictable Pro RMK or a more playful RMK Khaos. Next, a buyer must choose between the standard RMK platform has a full-length tunnel and full rear snowflap or a "Slash" with a shorter and tapered tunnel, shorter heat exchanger and no snowflap.
Step 3: Choose your engine. Spring buyers can opt for either the turbocharged Boost or the quick-hitting 9R big bore, while in-season buyers can get a naturally aspirated 850 or, in some models, a ready-and-willing Patriot 650.
Next, the rider must pick their preferred track length and lug height. The Series 9 325 is best at providing forward momentum in deep, powdery snow, Polaris says, whereas the Series 8 2.75 is more versatile and will allow the rider to spin it faster to gain momentum.
All RMKs except for the entry-level, downsized EVO RMK in the Pro-Ride chassis get the updates mentioned above to the 7S display (if equipped), exhaust, oil cap, headlight and quarter-turn fasteners, plus new (and long-awaited) reversible ice scratchers and updates to the brake.
The brake was the source of a recall/stop-ride notice this past season for its possibility of overheating if a driver used the throttle and brake at the same time. Some electronic wizardry was added to the sled in the recall to prevent that possibility in the future. For '24, a new brake rotor with better venting and a new "high-retraction caliper" are added to the equation. New, reversible scratchers are also part of the package.
As alluded, the choices between RMK and Pro-RMK, various engines, plus Slash and track lengths and heights are numerous. Check out the Polaris website to narrow down the options. There's also a returning 650 SKS 146 plus the aforementioned EVO RMK.
Voyageurs & Titans
The fleet of Voyageurs utility-crossover sleds in the Polaris lineup expands for model year 2024, as Polaris rebadged some fan-cooled models previous called Indy.
The only Voyageur in the Matryx chassis is the Voyageur 146, with either a 650 Patriot two-stroke engine or a 90ish horsepower S4 four-stroke. Other Voyageurs all use the fan-cooled 550-class engine in the dated Pro-Ride chassis. They include the 550 Voyageur 144, 550 Voyageur 155 and the renamed Voyageur Adventure 144 and Voyageur LXT 144.
The Titan Adventure with its 20- by 155-inch Cobra only has one engine option in 2024. It comes with the ProStar S4 four-stroke; the 800 Cleanfire is officially now gone from the Polaris lineup.
Editor's Note: Every Snow Goer issue includes in-depth sled reports and comparisons, aftermarket gear and accessories reviews, riding destination articles, do-it-yourself repair information, snowmobile technology and more. Subscribe to Snow Goer now to receive issues delivered to your door or directly to your computer for a low cost.