In my part of the West, snow- and cold-lovers were truly blessed in the winter of 2018-2019. Lasting longer than usual, the cold came early and stayed a long time. To my enjoyment, the Castle X Backcountry Monosuit I utilized last season ideally fit the bill for my desired riding in such conditions.
On cold days, it had me covered, warm and cozy from ankles to neck. The shell itself is a high performance nylon and polyester prepared for sledding via the Ven-Tex 10,000mm/10000g/M2 waterproof, windproof and breath-able laminations. The seams are double stitched for extra cold mitigation and Velcro-adjustable wrist cuffs add to its adaptability and comfort. On warmer days, I could open the glorious ventilation system to curtail most of my sweaty fears. The backpack friendly Ventec ventilation with snow blocker kept the fumes at bay and prevented snow ingestion into the body of the suit.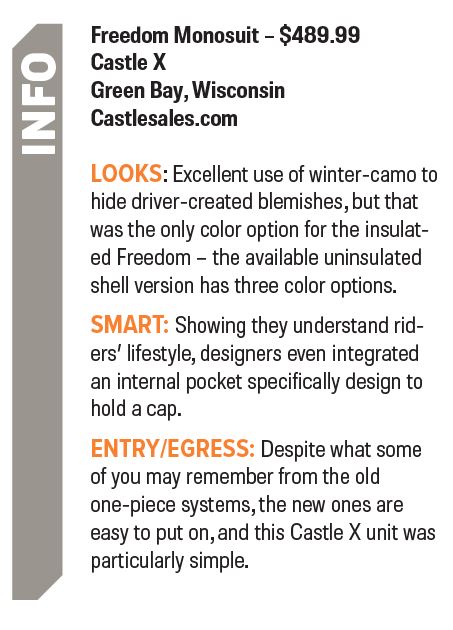 Its Comfort Flow mesh lining reduced any sweaty/clammy feelings on the long rides. If the day was over 21 degrees, though, the ride must be brisk-paced to keep airflow moving through the full-framed suit. The fully lined fleece collar felt comfy but it can retain odors or moisture.
The finish and overall fit of the suit is second to only a few. A removable internal suspender system is crucial – as some rider's desire non-suspended links between hips and shoulders while others want to utilize the shoulder hangers to carry lower-placed mass and synch up the fit. Precurved arms and knees kept the fit near the body without restricting motion whether standing, sitting or in transition.
Additional rear padding kept com-fort level paramount and the suit is bashable through the fiercest, thick lodge-pole pines that attempted to poke holes through sleeved material. Longer-crotched gents, though, may find the Castle monosuit slightly tight in the inseam region, but proper fitment with the suit can be adjusted for proportional frames.
Key features include a left sleeve pocket, removable hood, dual-layer Spandex in the pockets, 3M Scotchlite reflective material in key locations, and a two-way main zipper. Best yet, it seriously resisted moisture intrusion: On that scale and many others, the Castle X Freedom Monosuit passed the test with flying colors.
Featured in the December 2019 issue of Snow Goer magazine, Cold Tested department.
Editor's Note: Every Snow Goer issue includes in-depth sled reports and comparisons, aftermarket gear and accessories reviews, riding destination articles, do-it-yourself repair information, snowmobile technology and more. This Cold Tested write-up was first published in the October 2022 issue of the magazine. Subscribe to Snow Goer now to receive issues delivered to your door or your computer for a low cost.