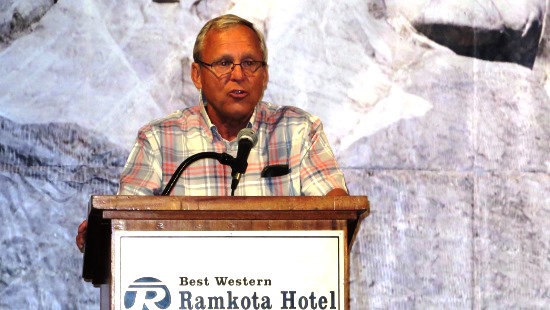 A warm and mostly dry winter managed to stall the snowmobile industry's recent run of annual sales growth in the U.S., and overseas sales of new snowmobiles fell more dramatically – paced largely by a huge decline in Russia.
Those were the takeaways from recent reporting of 2016 new snowmobile sales figures released by Ed Klim of the International Snowmobile Manufacturers Association at the International Snowmobile Congress in Rapid City, South Dakota, June 10.
Sales of new snowmobiles in the U.S. were down 4 percent in 2016, compared to the previous selling season, and down 12 percent in Canada, Klim said. Sales in Scandinavia were a mixed bag, with a big increase in Norway, a slight decrease in Sweden and a bigger fall in Finland. Sales of new snowmobiles in Russia, however, were down drastically, and that led to a total decline in the worldwide snowmobile market by 15.8 percent.
A sales season in the snowmobile world runs from May 1 the previous year to April 30 of the named year.
North America
In a year when many popular snowmobile riding areas and Snowbelt population centers east of the Rocky Mountains had little snow and/or short riding seasons, a sales decrease of 4 percent in the U.S. was considered a bit of a victory by the snowmobile manufacturers.
"We did OK," Klim said. Sales of new snowmobiles ended the season at 56,006 units compared to 58,299 in the 2015 selling season. Earlier this year, various officials from the four snowmobile manufacturers had reported sales down through December and January at 10 to 20 percent, but aggressive sales programs and discounting helped create some late-season sales and make the season-ending number less daunting than it seemed like it would be earlier.
Plus, Klim noted, if one looks more long term, snowmobile sales in the U.S. are up 10 percent over the past six years, which "has us performing with the GDP" – the rate of growth of the country's Gross Domestic Product.
Sales in Canada, however, slumped more notably, to 44,431 new snowmobiles compared to 50,752 in the 2015 selling season. Much of that change, Klim said, can be tied directly to a sharp drop-off in Alberta, where the economy is troubled due to a number of factors but most specifically the decline of the gas and oil industry there. Looking long-term once more, however, the 44,431 number in 2016 looks good compared to the 40,165 units sold in Canada in 2012.
Overseas Sales Down Sharply
Sales of new snowmobiles on the worldwide market were down dramatically, driven largely by a massive decline in sales in Russia, Klim said. Overseas sales of new snowmobiles declined 37 percent in this one year, from 41,662 units to 26,535.
Just two years ago, sales of new snowmobiles in Russia neared 33,000 units. In the just-completed sales season, that number has fallen to just 6,275 snowmobiles, Klim said.
"A couple of years ago, I stood up here and told you that Russia may soon be the second largest market in snowmobiles," Klim noted. But since then the Russian economy has been in a freefall due to a number of factors, from aggressive military actions that have brought on international economic sanctions to a big decline in the value of crude oil.
The bright spot on the international stage for snowmobiles is Norway, which just started opening some of its land to snowmobiling in recent years. Sales of new sleds in Norway in the 2016 selling season reached 5,441 units – not a lot in the big picture of the things, but a couple of years ago the number was close to zero.
"It's the biggest number [of snowmobiles] we've ever sold in Norway in the history of the business," Klim said. "The Norwegians are building new trails, and it's great." Anecdotally, Klim also told the assembled crown that Norway has the second highest per-capita income in the world, "and they own more Teslas per capita than anywhere in the world."
Sales in Finland, where the economy isn't as strong, fell to 2,725 sleds, while Swedish sales were "down just a little bit" from last year, to 9,629 units.
Add It Up
Add all of the figures up, and worldwide sales of new snowmobiles totaled 126,972 units compared to 150,713 in the 2015 selling season. It's the lowest number the snowmobile market has put together since 123,063 units were sold in 2011.
The lack of a strong winter was also reflected in total snowmobile registrations in the U.S. – 1,262,264 sleds were registered in the various states compared to 1,340,585 the previous season. In Canada, registrations were up from 606,802 in 2015 to 634,720 units last winter – their highest level since 2009. Klim said the big change in Canada was largely due to the more accurate numbers in the territory of Nunavut in the far north.