Imagine being able to start a snowmobile's engine by simply pressing a button. Ski-Doo riders have been able to do that for years, so no big deal, eh? But what if you could enjoy the convenience of push-button starting without having to pay the weight penalty of a battery, starter motor, ring gear and related pieces?
Those parts add up to roughly 20 pounds, but the new Ski-Doo SHOT starter system on select 2018 models weighs just 2 pounds and provides virtually the same benefits as a conventional electric starter.
After unveiling its latest REV platform last year, Ski-Doo has spread the Gen4 chassis across more models and into more classes for 2018. Those 2018 Ski-Doo models will all feature the big 850 twin, however, as Ski-Doo didn't unveil any new engines for 2018 and implications are that none of the brand's other powerplants – like the 600 H.O. E-TEC or ACE four-strokes – will fit in the narrow second-year chassis. Ski-Doo riders who want a REV Gen4-based sled with a different powerplant will have to wait at least one more year.
Those new 850 models plus a new rear suspension in an extreme crossover sled are among the exciting changes from Ski-Doo for 2018. We'll cover details about the new sleds farther down the page, but for now let's dig into the new, lightweight starter system.
2018 Ski-Doo SHOT: How It Works
A driver pulls the recoil rope for the day's first start. Once running, the engine's magneto works as a generator and charges an ultracapacitor, which essentially is a unit that stores electrical energy. For following restarts during the ride day, the driver presses the button near the left handgrip, releasing electrical energy from the capacitor so it can flow through the engine control module (ECM) and eventually to the magneto, which acts as an electric motor and turns the crankshaft via magnetic energy. The Ski-Doo SHOT starter is not, however, a cold-engine start system.
E-TEC technology makes it possible for SHOT to work because the direct-injected engines typically start within one-third of a crankshaft rotation when warm. Energy stored inside the fully charged capacitor is equal to two recoil rope pulls.
The capacitor will store enough energy to start the engine for up to roughly 30 minutes after the snowmobile has been shut off. But external conditions will affect the timeframe, and testing has shown the capacitor will hold energy longer than a half-hour, Ski-Doo engineers said. It takes 2 minutes of run time after a day's first start to fully "charge" the capacitor, and 20 seconds of run time to recharge it after a SHOT start.
SHOT will be available on all spring-ordered 2018 Ski-Doo Freeride, Summit X and Summit SP models with the 850 E-TEC engine. Ski-Doo officials say it will appeal to deep-snow riders because they start their machines dozens of times per day after getting stuck and digging out or taking mountainside breaks, and now they can easily restart without significant extra weight.
The optional technology will cost buyers $200 more than electric start. It cannot be retrofitted on 2017 models or other Rotax engines, and Ski-Doo does not intend to make a retrofit kit.
2018 Ski-Doo Renegade Backcountry X
Taking direct aim at extreme crossovers like the Polaris 800 Switchback Assault 144, Ski-Doo has reinvented its big-bore Renegade Backcountry and Backcountry X machines for 2018 by updating them with the REV Gen4 chassis and 850 E-TEC engine.
Company officials said at their 2018 media sneak peek event this month that goals of the 2018 Ski-Doo Backcountry models were to deliver a better ride and sharper handling on groomed trails than previous versions, while maintaining the playful nature off-trail that 50/50 crossover sled buyers want.
The machine also has a new rear suspension, but first we'll cover the high points of the award-winning platform that Ski-Doo unveiled a year ago.
REV Gen4 machines have Ergo-Step side panels that promote mobility for the driver by letting him or her scoot farther forward. The seat is taller and narrower than previous Ski-Doo seats and the RAS 3 front suspension features another inch of travel compared to RAS 2. Styling is clean and angular.
The 850 E-TEC engine package is 4.1 inches narrower, and that's what enables the new ergonomics. Engine features include electronically controlled eRAVE exhaust valves, intake-mounted fuel injectors and a pDrive clutch bolted on the crankshaft.
To develop the new Ski-Doo cMotion rear suspension for the Backcountry models, cues were taken from the industry-leading rMotion suspension found in most MX Z and 137-inch Renegade models, and the new skidframe also shares parts with the tMotion rail that's bolted inside the tunnels of most Summit and Freeride models.
Geometry and motion ratio of cMotion is similar to tMotion, but the new suspension does not have the pivot on the rear arm – a fundamental feature of tMotion.
Rails for the cMotion are tipped up 4.5 degrees at the rear, which effectively shortens the wheelbase for better on-trail handling without affecting flotation.
The front suspension uses spindles with laid-back geometry and Pilot DS 2 skis from Ski-Doo's deep-snow sleds, but the sway bar comes from Ski-Doo's trail sleds. Ski stance can be set at 38 or 40 inches wide.
The key difference between 850cc Backcountry and Backcountry X models is the shocks. The X includes a KYB Pro 36 rear shock with external high- and low-speed compression adjustment, and a rebuildable HPG Plus center shock. Standard Renegade Backcountry models have HPG Plus ski shocks and HPG dampers in the skidframe.
Track options are aplenty for the Renegade Backcountry X. The standard track is a 15- by 146- by 1.6-inch Cobra, otherwise an Ice Cobra with 1.6-inch pre-studded lugs or a 16- by 146- by 2-inch PowderMax are available. FlexEdge tracks will not be available for these sleds.
2018 Ski-Doo Summit, Freeride Go To Gen4
Freeride is another deep-snow lineup that moved to the REV Gen4 chassis for 2018, and track options have expanded to include a 165-inch length.
Freeride models are like Summits, but they're reinforced with rail stiffeners, high-capacity shocks with external adjustability and wider running boards made from thicker material (3 mm vs. 1.8).
There are five Freeride models available for 2018, and they all have 16-inch wide tracks. Freeride 137 has Pilot DS 2 skis and skews more toward Midwest- and East-based riders thanks to the rMotion suspension and sea level clutch calibrations. Longer Freerides have the tMotion skidframe.
The Freeride 146 has DS 2 skis and a PowderMax track with FlexEdge and 2.5-inch lugs, while the Freeride 154 and 165 have DS 3 skis and roll on a PowderMax Light track with FlexEdge and optional 2.5- or 3-inch lugs. The Freeride 154 S-38 model is sort of a flatland mountain sled with a wider 38-inch ski stance and the PowderMax Light track with 2.5-inch lugs.
Oddly last year, a Summit X was not available with a track longer than 165 inches. That changes for 2018 as the options expand to include the 175-inch shoe so mountain riders will be able to enjoy superior flotation along with the benefits of the REV Gen4 chassis that's easier to sidehill and control than the REV-XM platform. All Freeride and Summit X machines can be spring ordered with sea level calibrations. The handlebar riser on all Summit X models will be 1 inch shorter than last year, following a trend where some deep-snow riders are trying to keep their mass lower for better control.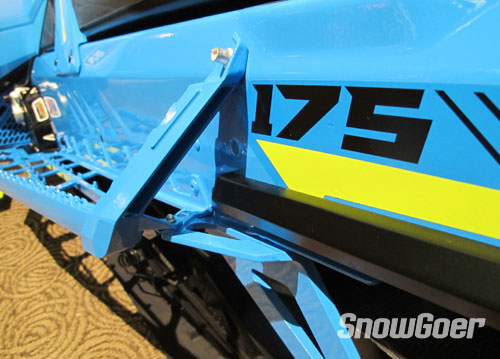 2018 Ski-Doo X-RS & Blizzard
Like the Freeride and other off-trail sleds, the X-RS 850 models inherit the REV Gen4 chassis and powerful E-TEC engine for 2018, and they get a flashy color scheme with black, silver and Manta Green.
Aside from the busy graphics, the wider running boards are a dead giveaway that the X-RS is different from other MX Z models. The boards are also thicker, made from aluminum sheathing that is 3 mm thick vs. 1.8 mm.
In addition to the chassis, another change for the X-RS machines is the use of KYB Pro 36 R piggyback ski shocks, down from KYB Pro 40 shocks. The reason for the smaller shocks, Ski-Doo officials explained, is that with less oil and nitrogen for the shock to displace, the shocks react quicker to help keep the skis on the snow. The 36 R shocks have external compression and rebound damping. Rear shocks are unchanged with Pro 40 piggyback dampers inside the rMotion skid.
The MX Z Blizzard package is getting a major upgrade for 2018 by, you guessed it, moving to the Gen4 chassis with the 850 E-TEC engine. Featuring a 129-inch, pre-studded track, adjustable Pilot TS skis and multi-function analog/digital gauge, the 2018 Ski-Doo Blizzard package is the top-of-the-line, in-season MX Z model. Four-stroke- and 600 H.O. E-TEC-powered Blizzards will stay in the original REV-XS chassis.