Arctic Cat has pulled the wraps off of its lineup of 2016 snowmobiles. Highlights include significant updates applied to the the entire M Series lineup for less weight and better performance in deep snow. ZR models will be available with a 137-inch track, some models get new Fox shocks and most models will get new TEAM clutches.
The XF crossover lineup gets further specialization with the expansion of the ProTour chassis and a new model for the adventure class. The utility class gets considerable upgrades, too. Let's dig in.
2016 Arctic Cat Snowmobiles: Improved M Series Front Suspension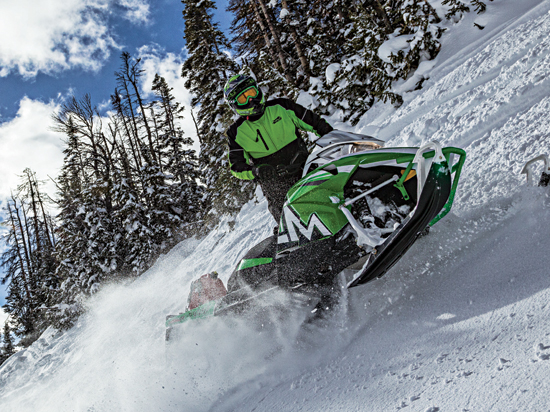 To achieve a lighter feel and improve off-trail handling for all 2016 M models, Arctic Cat engineers developed new spindles and A-arms for the front suspension and created new skis. They also changed rear suspension geometry for more consistent track tension and achieved a better ride. Spindle caster angle with the new Arctic Mountain Suspension (AMS) has increased 10 degrees for 2016 – meaning the tops of the spindles are tilted back more.
The spindles are also slimmer, sleeker and angle toward the body for less drag as the machine cuts through the snow, and the whole A-arm/spindle package comes in 2.4 pounds lighter, Arctic Cat claims.
A new ski with a deeper keel will be bolted to the new spindles. The ProClimb-7 is 7 inches wide at the tip but tapers to 6.5 inches in the middle. A new rubber damper between the saddle and spindle was designed to keep the ski tips up while also reducing stuffing or knifing into the snow pack. A wider ski saddle allows 4 inches of adjustment so riders can set the stance from 34.5 inches to 38.5 inches.
The new Float-Action rear suspension incorporates new front torque arm geometry and rail geometry for an extra inch of travel, better ride quality and more consistent track tension. The previous Arctic Cat mountain skidframe caused inconsistent track tension as it cycled through its travel but moving the front arm's rail mount point up about 1 inch helped fix that problem, Arctic Cat engineer Troy Halvorson said.
There are some revisions to steering posts, too. The telescoping system that debuted in 2009 has been mostly removed from the lineup, with only the XF 8000 High Country and XF 8000 High Country Limited retaining it. Arctic Cat officials cited the fixed post's sturdier, higher-quality feel and less weight as the reason for essentially axing the complex steering stem from the lineup. For 2016, M models will feature the PowerClaw track with either 2.25- or 2.6-inch lugs in 141-, 153- and 162-inch lengths. Limited models will be available with a new 3-inch lug option for tracks 153 and 162 inches long.
All 2016 Arctic Cat M Series snowmobiles will come standard with ice scratchers and will have a single, HCR-style heat exchanger mounted in the front of the tunnel. Base M models are now tagged "SE" and they are fitted with a 2.25-inch track. Electric start is optional on all two-stroke engine and package configurations.
2016 Arctic Cat Snowmobiles Get New Clutches
In the name of improving durability and performance, Arctic Cat worked with TEAM Industries to develop the Rapid Response CVT System that consists of new primary and secondary clutches, and a new jackshaft for that driven pulley.
The new clutch has all-new springs and weights. Weights are wider for more stability to reduce binding and extend life. The clutch spider's walls are thinner to reduce weight, but the part is stronger.
The new Built On Shaft Secondary (BOSS) clutch's sheaves mount directly to the jackshaft – eliminating need for the internal post of traditional designs and tightening up tolerances. Engineer Kevin Thompson said riders will notice a slight performance gain with "similar" top-end speed when all other factors are equal.
For utility applications, the new Wide Range 3-speed transmission (WR3) with Easy Shift has three forward gears: high, low and super-low – plus reverse. High gear is for normal driving and low is for use during typical work scenarios. But super-low represents the lowest gear ratio available in a snowmobile, Arctic Cat claims, for extended slow-speed, heavy lugging.
2016 Arctic Cat Snowmobiles: New Models, Shocks & Utility Features
Arctic Cat has added a new four-stroke engine to its lineup while also expanding options in the crossover, utility and touring segments.
With decades of experience building comfortable 2-up cruisers, Arctic Cat relaunched the Pantera last year with a flatter tunnel angle and less running board traction than ProCross-based trail sleds. The Pantera was a "huge hit," Arctic Cat Snowmobiles General Manager Brad Darling said, because riders accepted the model not only as a comfortable 2-up touring bus, but many people used it only as a 1-up trail sled, too. To capitalize on that platform's success, Arctic Cat shifted the CrossTour into the ProTour frame.
The all-new 2016 Arctic Cat XF 7000 CrossTour is essentially a Pantera with a single-rider seat. It has the same 146-inch RipSaw track and Slide Action rear suspension (last year's XF 7000 CrossTour had a 141-inch track and was built on the ProCross frame). Like the Pantera Limited, the CrossTour includes a 4.3-gallon auxiliary gas tank and large storage bin in the rear. The CrossTour is only available with the 7000 Series Yamaha engine.
With the CrossTour taking on more of a touring theme, Arctic Cat product planners developed the new XF CrossTrek lineup for adventure riders. CrossTrek models have a 137-inch Cobra track with 1.5-inch lugs. It has removable, semi-rigid side bags plus a large tunnel bag. Suspension calibrations will be similar to LXR models.
Snowmobile manufacturers say the utility class is an increasingly important segment, especially worldwide. The rugged new ProUte WT frame has a steel-tube front with a wide aluminum tunnel to house a 20-inch  track. Body parts were designed with serviceability in mind, so the flip-open hood and easy-off side panels allow quick access.
The ProTour WT also has a steel tube front and the new body with external radiator, but with a deluxe 2-up seat, passenger wind deflectors and hard-sided saddlebags it accommodates touring use more completely than the ProUte WT. The new Xtra-Action articulating rear suspension – used in all ProUte WT and ProTour WT models – can be unlocked for better reverse performance off-trail, or locked for better on-trail performance.
Also new, the ProUte is a light-duty utility chassis with conventional ProCross body parts. All models based on these three new platforms get new skis, also called ProUte that taper from 10 inches wide at the tip to 8 inches wide at the tail.
An all-new-to-snowmobiling engine will power one touring sled and a few utility machines, and it fills the gap between the 2000 Series and 4000 Series engines. The 3000 Series C-TEC4 is a 700cc, parallel twin four-stroke that was designed by Arctic Cat but manufactured by Kymco. The fuel-injected engine has four valves per cylinder and is rated at 65 hp.
2016 Arctic Cat Snowmobiles: New 137-inch ZR Models
Arctic Cat shuffled the name of it popular trail-focused crossovers, renaming XF models with 137-inch tracks as ZR models. Specialized hybrids like the High Country, CrossTour and new CrossTrek retain the XF label. Suspension calibrations received attention, too, with new shocks on some models and revised spring settings on most ZR and XF models.
Arctic Cat engineers ensure better stutter bump compliance and cornering thanks to a new, dual-rate spring on the front track shock of ZR LXR, Sno Pro and Limited trail models. ZR models with a 137-inch track will have torsion springs with an 11 percent lighter rate for an all-around better ride.
A new, dual-rate spring on the center shock of ZR LXR, Sno Pro and Limited trail models should improve stutter bump performance. ZR models with a 137-inch track will have torsion springs with an 11 percent lighter rate for an all-around better ride.
The April 2015 issue of Snow Goer magazine includes more quotes from Arctic Cat officials, photos and further model information – plus a complete list of the 2016 Arctic Cat snowmobiles.